"We think that RamBase is a future-proof system for Aarbakke. Even though we don't expect it to solve all our IT needs, we do expect RamBase to be a good fit for our future development, our improvements, and continuous digitization program," says Rolf Thu, CTO of Aarbakke.
Aarbakke is one of the world's leading companies in CNC machining in the metal fabrication industry, and in recent years the company has gone from 10 to 50% export trade. One of their secrets is having a fully digitized production, and continuously utilizing algorithms for more efficient production.
"We are a highly digitalized company, and we have called the initiative The learning factory, which is basically industry 4.0 in a Norwegian context. The purpose here is to connect everything; all machines, all assets, all systems, all data, into one platform. The data driven learning cycle can best be summarized in this way: Collect-Learn-Improve-Repeat " says Rolf.



Rolf Thu, CTO, Aarbakke.

The Smart Factory platform is called CDF, or Cognite Data Fusion platform, and the reward of this interconnection of data and information is a continuous improvement of the company's efficiency and earnings. Furthermore, the purpose of connecting everything lies at the core of Aarbakke's foundation: A driving force toward always improving through continuously learning from their own behaviours.
The secret behind Aarbakke's success? Sharing data across the board
"Aarbakke is always in the process of doing something new, and the key to Smart Factory is simply making sure that all information is shared: If someone has a great idea; a new functionality, or a new solution, it gets fed into the machine and shared with all 120 CNC-operators across the board to learn from and utilize. This way, all processes are streamlined and improved, and just last year we increased production by 21%," says Inge-Brigt Aarbakke, CEO of Aarbakke.



Odd Magne Vea, CSO, RamBase and Inge Brigt Aarbakke, CEO, Aarbakke.
He further explains that with Smart Factory, Aarbakke has developed a strong business culture based on a willingness to change, working together and sharing ideas, and thus working smarter, not harder.
"The transparency Smart Factory provides, and the deep insight into every part of the company, means that when I enter the "great forest", I immediately know which tree to cut! It allows us to always keep learning about where and how we can improve and grow," says Inge-Brigt.
Contextualizing and harvesting value from data.
As the innovative and growing company that they are, Aarbakke has an extensive need for all of its IT systems to interact. Rolf points out that RamBase, as a modern Cloud ERP system, is a key component in this structure:
"We need to have extensive support of data extraction from all our systems, such as tool management, Smart Factory, and other solutions that we connect through Azure technologies and APIs. It's crucial that all our IT systems can interact because we need to get the most out of the data we collect, and this is where the RamBase Platform plays a crucial part."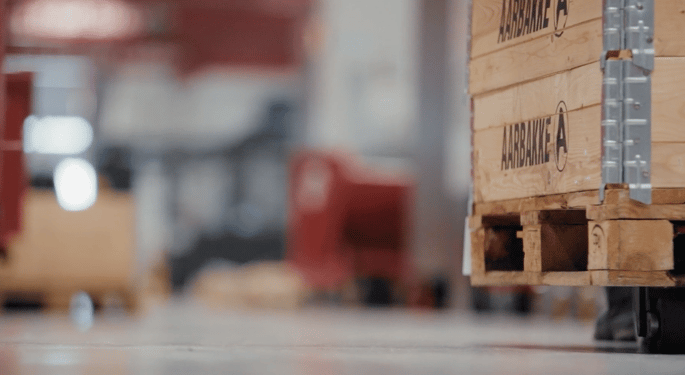 He continues to explain that the Smart Factory platform provides a lot of information, almost too much. Therefore, it's crucial that this data is put into context in order for Aarbakke to harvest value from it.


"Data that stands alone in a silo is basically worthless, but there are unlimited possibilities when all that valuable data is contextualized and handled in the right way. Therefore, it was crucial for us in choosing RamBase as our ERP system moving forward, that we can access data through modern APIs," says Rolf and concludes:

"We depend on being able to access all types of data from our Smart Factory and need most of it in real-time, and thus be able to really utilize the power of data. That is how we learn, and that is how we grow," concludes Rolf.

See videos and read the full story of Aarbakke's move to RamBase, and how they are taking their company to the next level.