ABOUT RAMBASE
Conquering the world with an all-in-one system for Industry 4.0
RamBase is a cloud-based ERP solution that helps businesses within manufacturing and distribution gain control over their entire value chain from sales to production to delivery.
Founded in 1992, RamBase is a Norwegian developed Software-as-a-Service system that was born in the cloud and is delivered by certified partners with extensive industry knowledge.
RamBase is a complete business solution that provides full control by linking the value chain into one system that interacts, streamlines, and simplifies all your core processes. The system is equipped with a rich set of API's and we encourage our partners and customers to develop smart industry solutions with our open building blocks.
Jakob Hatteland Computer AS owns, host and promote RamBase. We have sales professionals ready to help you with your digital transformation in Norway, Sweden, Denmark, UK and Poland.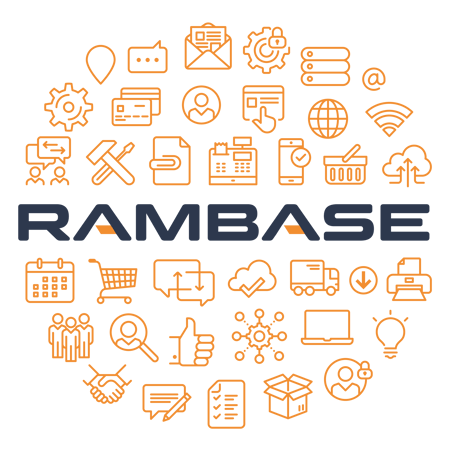 Did the world need yet another ERP-System?
Stig Hatteland, CEO at Hatteland, has played a key role in the journey of establishing RamBase Cloud ERP. In this interview, we sat down with Hatteland to get an understanding of how this journey unfolded.
We're Conquering the World!
"We have a clear vision: We are going to be the obvious choice for clients who are working with both production and distribution when they choose their ERP-system," says Karl Inge Stensland, COO of RamBase.
TOUCH
Security
Security
RamBase Cloud ERP is delivered as a Software as a Service (SaaS) via our EMP-shielded data center In Norway, guarded 24/7 and with full back-up and redundancy, protecting your valuable business data.
TOUCH
Careers
Careers
At RamBase, there is always a place for good people. Go to our career page to get insight into who we are! (Norwegian)
TOUCH
Partners
Partners
RamBase is sold and delivered by certified partners with extensive industry experience.
Since 1971, Hatteland has developed ideas creating ripple effects locally, nationally, and internationally. Today, Hatteland develops business ideas and brands that work out practical solutions to real and business-critical problems. Hatteland Group consists of more than 200 people working out innovative solutions in four distinct fields of business. Hatteland owns and supports the following brands besides RamBase: EMP Secure, Inosa, and Ydra. Visit the Hatteland webpage to learn more about the investment company.
Code of Conduct & Ethics
Our success depends on the trust of our employees, subsidiaries, suppliers, and customers. We are committed to integrity and the highest ethical standards in all our relations. Read our "Code of Conduct & Ethics for Suppliers and Business Associates" for more on our expectations and requirements.
DON'T JUST TAKE OUR WORD FOR IT - SEE WHAT OUR CUSTOMERS THINK
Contact us
We're here to help and answer any questions you might have. Fill in the form and we will get back to you shortly.