This week, we had the pleasure of being together at the 2023 UK Tech Business Awards, an event which honors the most exceptional tech enterprises in the UK. The awards commend remarkable and innovative application of technology to propel business transformation and growth, a theme that resonates deeply with our mission and values at RamBase.
We are thrilled to have been named the winner of the 2023 Manufacturing Tech Disruptor of the Year award! This recognition is a testament to our commitment to providing innovative solutions for UK's manufacturing industry. We are proud to receive this award and it further motivates us to continue delivering exceptional results for our clients. To understand how we arrived at this moment, we need to reflect on our efforts in the UK market.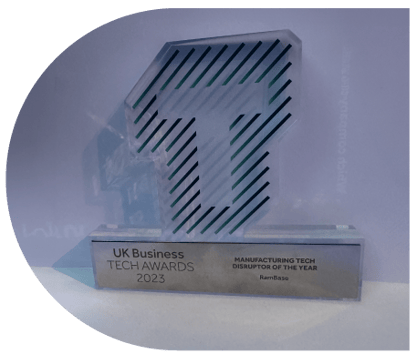 The case that sealed the deal
This year, we showcased our customer success story, JST (UK) Ltd, a prominent UK electronics connector manufacturer operating within diverse markets, including automotive, domestic appliances, and the medical industry. These industries trust JST for delivering top-quality products and a commitment to ongoing innovation, and JST placed their trust in our software to help them deliver on quality, speed, and future-proofing their operations.
The awards are evaluated by an independent panel of leading technology experts ranging from a mix of Business Growth experts, CEOs, Data Management, and Marketing professionals. And this week we were announced winners of an award and finalist in two categories:
Winner of Manufacturing Tech Disruptor of the Year
Finalist in SaaS Company of the Year
Click here for an overview of the list of winners.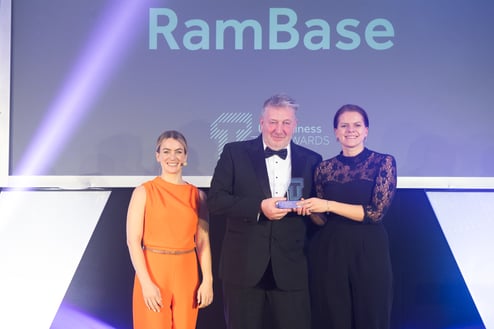 Pictured: Awards presenter Georgie Barrat, RamBase UK Channel Manager, Peter Fehily and RamBase Content Manager, Elisabeth. M. Aardal.
Taking a moment to reflect on the day, here's what our UK Channel Manager, Peter Fehily, and Content Manager, Elisabeth. M. Aardal had to say:
"These industry events are really interesting; saying what we do and doing what we say may make the life of the judging panel easy, if a little uncomfortable with the competition that think they will win. 'RamBase again' is an all-too-common comment among the other innovative and often entrepreneurial solutions that are out there, even those far removed from ERP.

As awareness grows in RamBase, more and more specialist manufacturers will see and experience the difference we give - not just with the platform we provide with which they can grow, but with the agility, experience and dedication of the Team behind it, wholly committed to our user base."

Peter Fehily, RamBase UK Channel Manager

"We were thrilled to be in the midst of other exceptional technology providers and have the opportunity to connect with the brilliant minds behind the software. The atmosphere was really great and it was a great experience to share our customers success stories."

Elisabeth. M. Aardal, RamBase Content Manager
RamBase growing stronger in the UK
RamBase has been making waves in the UK this year, and here's why:
A team of experts on the ground
Whether it's our sales force in action or our UK partner network around the country. Our team of professionals bring a deep understanding of the UK market and work closely with clients to ensure that they get the most out of the platform, providing support and guidance every step of the way.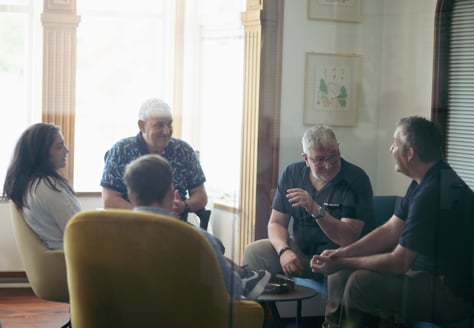 Our UK sales team in Stavanger sharing their thoughts on a recent case study.
Software made for the industry
Behind the scenes, we are consistently pushing the boundaries of what is possible in manufacturing technology. Improving the way manufacturers operate and stay competitive in a crowded market. RamBase's platform is designed to scale with businesses of all sizes. With real-time data, automation, and analytics, RamBase empowers manufacturers to streamline their operations, reduce costs, and improve efficiency.
Click here to discover our industry solutions and let's grow stronger together.
Enterprise functionality without the enterprise price tag
Gone are the days where only enterprise sized businesses get access to enterprise level solutions. We provide businesses of all sizes, from start-ups to fast-growing businesses, with access to a comprehensive range of tools and functionality, without breaking the bank.
Your software should not merely be about juggling an influx of transactions or data; but about executing these tasks with seamless efficiency, cost-effectiveness, and minimal disruption. RamBase doesn't just support business growth; it fuels it, and this ethos lies at the heart of our innovative solutions.
Old ERP on the way out? Maybe it's time to make the switch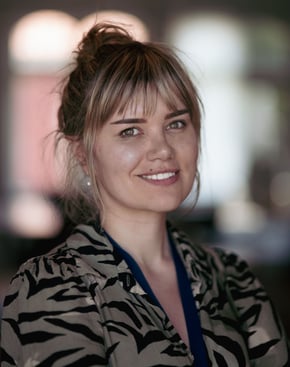 Olena Taymanova
Olena Taymanova is a passionate product marketing specialist with a talent for crafting compelling articles that explain the latest functionality of products. With a deep understanding of how products are developed and marketed, Ollie has a knack for simplifying complex concepts and making them accessible to a wide audience.