"Running an ERP implementation requires a lot from an organization and is a significant operation. Therefore, it's essential to have a clear idea of ​​what will be better afterward," says Project Manager in RamBase, Sverre Tveit.
He says that it's not often that significant changes occur in an ERP process; that you're rigged in a way that allows as few surprises as possible along the way. Nevertheless, unforeseen things may arise, and in order to understand how they occur and possibly avoid them, it's important first to understand how an implementation process is structured.
And before the implementation process itself starts, you conduct a thorough analysis: The customer maps their operations and processes and agrees internally on how they're working today and how they would like to work in the future.
"Then we find out what functionality the company needs. We encourage the use of processes that have been adapted for RamBase, based on the industry expertise we have specialized in," Tveit explains.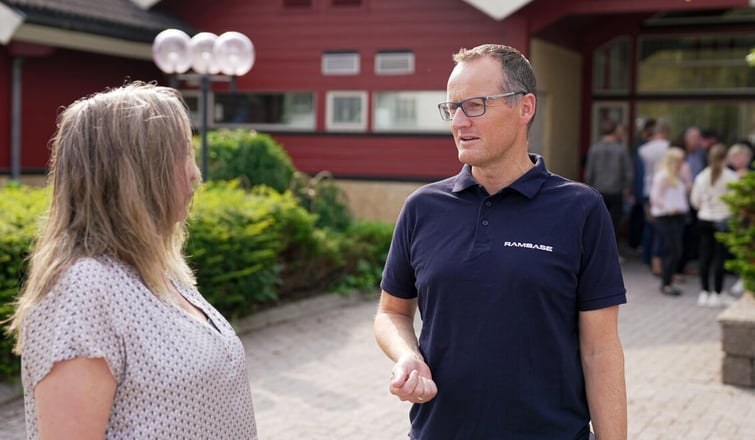 Sverre Tveit, Project Manager at RamBase
The actual implementation is often divided into three phases:

Phase 1: Training and process anchoring.
"Here, process validation and optimization is the alpha omega! We start by setting up a customer system according to the customer's preferences and needs. Then we configure and set up the system with customers, suppliers, and financial data, which we then copy over to a test system used in the implementation," says Tveit.
After a more general training in the use of the system, where you go through the basics and get started, courses are run in each individual process and subject area.
Then follows the process of anchoring: Here you take hold of the specific processes of the company and measure them against how you want to work in RamBase in the future.

"There are many ways to actually run a process in RamBase, and in this section, we address how this specific customer should work in the system. That's our main job really: to get them to work in a way that is best for them and drives the most value out of RamBase," according to Tveit.

Phase 2: Import of data conversion
In the next phase, the focus is on importing the company's data into the system; Data on customers, suppliers, and products - the KITs, where they have their structures.
"Then you gradually start to look at the orders that are to come in, you take in stock and begin to make a plan for when the company will go live with RamBase: how they will handle production (if they have it) of the orders in the new system," explains Tveit.


Phase 3: User test
But before you go-live, a UAT is done; a User Acceptance Test. This means that the customer tests all the processes in RamBase with their own real data and processes. So it's a taste of go-live, only with a little more updated data.
"Then you're in the position of having exactly the same data basis as you have with go-live; you have cleaned out all the data and taken everything in again so that you can simulate the real thing", explains Tveit.
And voilá, you're at the finish line: When the test is completed, the implementation is complete.


Path choice in the ERP process: Aarbakke's needs and adaptations in RamBase
Tveit says something that could happen along the way is that functions are discovered in the customer's operations that don't always correspond 100% with how RamBase solves similar processes for other customers. In that case, there will be a need to change processes or to make a change in RamBase integrations.
In such cases, RamBase works closely with the customer to develop integrations and make the right choices on technology and functionality so that they're as valuable as possible.
Aarbakke, the machining and technology company, is a good example of this: After a phase of analysis of all processes, new integration needs in RamBase were identified.
"So, we're adapting to the needs of Aarbakke and developing updated functionality that will be included in standard RamBase. We do this because Aarbakke's future functionality needs to coincide with RamBase's development plans," says Tveit.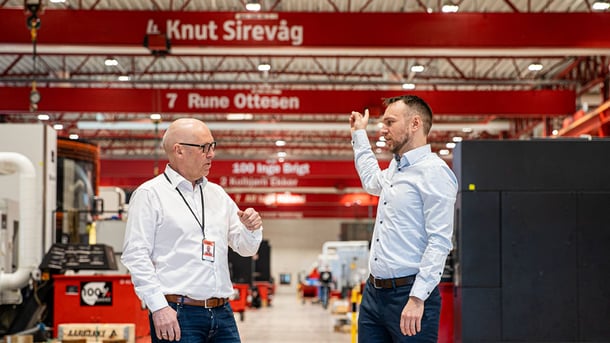 CEO of Aarbakke, Inge Brigt Aarbakke and CSO of RamBase, Odd Magne Vea

In this way, Aarbakke is a natural conversation partner when RamBase prioritizes further development of the platform. Dialogue between RamBase and Aarbakke have led to concrete developments and both parties look forward to furthering dialogue that will make RamBase the best it can be for more customers in these segments.


After live
Tveit says that you often don't get the real experience of RamBase until you go live: That it's only when you kick out the old system and get into the new that a whole new world opens up.
"It happens from time to time that new needs are discovered after we go-live. Go-live with an ERP system is not a final destination: That's when the collaboration starts," says Tveit and concludes:

"The use of an ERP system is a living process, where something happens all the time: We move continuously, we develop, new functionality is created, and the customer identifies new needs. Therefore, we are all dependent on a close collaboration between customer and supplier – even after take off."