Tellmann Executive Advisors, together with Business Solutions Norway, invites key ERP software providers in the Norwegian market for a digital ERP Standup. RamBase, together with SAP and IFS, will discuss what switching to a cloud-based ERP means for customers.

Through a panel discussion, the digital event will try to bring out what you as a customer have to think about when considering switching to a cloud ERP system. The event will dive into the differences between the solutions, and the specific characteristics of the individual solution. As a participant, you will hear how the suppliers answer relevant topics for a potential cloud-based ERP buyer. There will be an opportunity to direct questions to the supplier panel.

Topics that suppliers will answer and we discuss include:
How do you implement a cloud-based ERP solution?
What distinguishes such deliveries from previous, traditional deliveries?
What opportunities do customers have to make individual adjustments - and should they?
Are the suppliers' methods and approaches changing?
How to achieve business benefits and gains from a cloud solution?
How do suppliers recommend the customer prepare for a new ERP system?
What must the customer take responsibility for and secure in an implementation process?
And much more!
Join the Digital standup to get new knowledge and insight into the ERP market!
Participation is free and registration is done by following the link below
ERP Digital Standup
Wedensday 09 March 09:00-10:30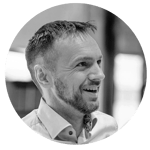 Representing RamBase at the ERP Standup
Odd Magne Vea is the CSO in RamBase Cloud ERP. He wants to challenge the perception of ERP as hard and time-consuming. As a self-proclaimed ERP-nerd, he loves when a customer really understands the potential an industry-fit system can unlock for growth, quality and control.
About RamBase Cloud ERP
RamBase positions itself as a challenger in an otherwise "set" ERP market. RamBase was born in the cloud, has 99.9% uptime, and with only one version; contributes to a more modern mindset than several of the competitors on the market. RamBase wants to shake the entrenched notion that ERP should be heavy and take a long time.
Need a customer's point of view? Check out why Aarbakke chose RamBase.
RamBase is for the ambitious, those who think one step ahead! We know the needs of our customers because the system was born out of a need for control of information: we have industry roots. It's about people and easy access to information - to the right person - when you need it. We know that business information must be of high quality. It comes from many different sources and with the RamBase Cloud ERP platform, you have access to everything in real-time.