EMP Secure provides cyber security for RamBase and the RamBase Platform. Chief Information Security Officer in EMP Secure, Olav Espedal, emphasizes the broad security services that are needed to stay ahead of the game.
For RamBase and their ERP customers, digital transformation opens up tremendous opportunities, but also threats. Cybercrime is borderless and growing. EMP Secure delivers the security measures needed to keep the systems safe and secure, says Espedal.
Security Measures
Providing a cloud ERP system, nothing is more important for RamBase than cloud security. One important measure for RamBase is that the Security Operations Center (SOC) is manned 24/7/365. The SOC aims to prevent and handle cyber attacks that constantly threaten private companies. It's operated by dedicated, skilled personnel who monitor, handle, and stop cyber-attacks using new and modern technology.
Preventive security is also a top priority. Besides operating the SOC, EMP Secure performs a wide spectrum of security testing and intrusion detection. All are designed to ensure that customer data is safe and protected against new threats.
Espedal also emphasizes the importance of secure backup of data through protected data centers.
Our data center has Tier IV Design which is the highest there is. It's located underground and next to a fjord in the heart of Norway, it is naturally cooled and protected. The facility is safe from EMP attacks, and our security personnel ensure the data is secure.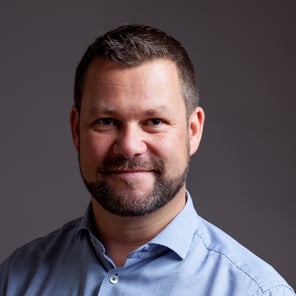 Olav Espedal, CISO EMP Secure
Trusted Hatteland Legacy
EMP Secure is owned and developed by the technology investment and innovation company Hatteland.
The long technology history and broad IT knowledge that comes with being part of the Hatteland family is a key advantage for EMP Secure, confirms Espedal.
The decision to go for EMP Secure as a trusted cyber security provider for RamBase was an easy choice. Even though EMP Secure and RamBase operate as individual companies, joint ownership with Hatteland has its advantages when it comes to the same practical approach to problem-solving and shared industry expertise.
Everybody is a Security Officer
- We always think of worst-case scenarios when it comes to cyber security protection. That's the best way to prepare for any threat safely. The same goes for our customers. We challenge them to stop-think-ask-report; always be prepared for the worst-case scenario. Espedal is adamant in their strategy to get everybody on board to achieve digital security.
Businesses invest in cyber security to handle their technology but don't sufficiently attend to the human side of it — which remains the biggest cybersecurity risk for many organizations.
Everybody is a security officer in their daily interaction online, that is something we preach to our employees and customers, says Espedal.
Learn more about what cloud security measures RamBase have in place here.