Are you about to acquire an ERP system? On your way to implementing one? Or simply just looking to find the right solution? Say no more. Together with industry colleagues, we'll be at ERP2022 to answer all your questions. Here, leading industry expert, Bo Hjort Christensen, will guide you through the day - and provide you with everything you need to know about the ERP market.
It's time for the annual #ERP2022.
The conference aims at medium-sized and large businesses that either need a thorough update on the status and trends in the ERP market or are about to carry out a demanding procurement and implementation process.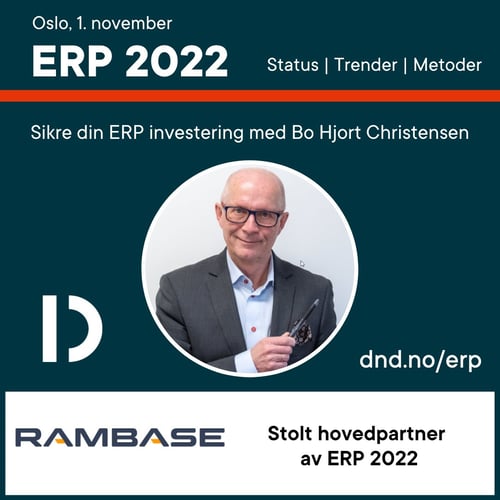 The conference is an important meeting place for everyone interested in how ERP systems can form a good foundation for digitization and business development. It's about choosing the right "bottom line" (the ERP system), implementing it smartly, using it wisely, and looking after it well.
Hear our very own Odd Magne Vea talk about products, strategies, and everything you need to know about the ERP market right now:


From Team RamBase you will meet our Sales Manager, Øyvind Mörk, and
our Country Manager, Stig Lomme.

Will we see you there?