Of all the restrictions caused by the pandemic over the last year, the one that has had most severe impact on our behavior, both as individuals and businesses, is the need to "keep our distance". As humans we are social beings; we commit to the ability to "get up close and personal"– to confer and seek reassurance from others when considering new ideas or needing confirmation that we are doing things correctly.
This is all well and good when the people you would go to for encouragement, assurance and support are in the same workspace and face to face conversations can take place to check information or get direct feedback.
Not so, in the current workspace where "work from home if you can" and muffling at colleagues through facemasks, are now the norm.
These requirements have caused businesses to completely rethink their business models; from physical shop floor constraints dictating one-way systems and specific entry and exit points, to the technology platforms that are needed to underpin an environment that can no longer depend on being able to tap someone on the shoulder for help.
Is the manufacturing industry ready for remote working?
Many businesses have introduced new shift patterns to minimize the number of people working on the shop floor at one time; but when an activity relies on manpower and knowhow to move it through the process, without a completely new approach, there is a limit to how effective these tactical changes can be.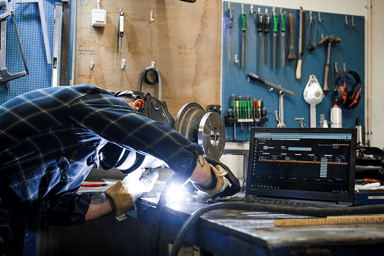 Many smaller manufacturing businesses that have grown organically over the past couple of decades, are likely to have a disparate set of systems and processes that have been added to over time, as particular requirements have arisen. It is not uncommon to find businesses run on spreadsheets, or for critical pieces of information to be held "in the heads" of key individuals.
Previously, this approach would have enabled the business to keep doing what they are good at, in the same way they have always done it. However, the circumstances over the last year have exposed that whilst this approach has supported the "status quo", their processes were entirely deficient when faced with significant and unexpected change. To survive, businesses have had to deploy new ways of working in short order just to allow them to keep trading.
Implications of adapting for new ways of working
As businesses adapt to accommodate new ways of working, there are many key challenges that need to be addressed. For example:
How to share information and collaborate between remote and off-site workers?
How to ensure product quality and traceability across a disrupted supply chain?
How to maintain productivity while deploying new ways of working?
How to manage data security and accountability across global supply chains?
How to support new operating methods using disparate or paper-based systems?
It is no surprise that the more a business relies on manual processes, disparate systems and people knowhow, the more problematic they will find addressing challenges like these.
Without the right tools, it is difficult for businesses to respond to unexpected events; adapting to new ways of working are likely to be costly and inefficient and in some cases compromise business continuity.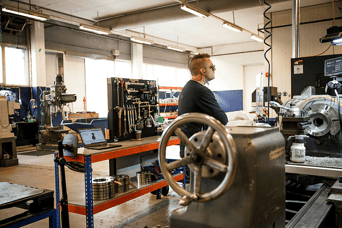 An example during the first 2020 lockdown from a manufacturer of ventilation units, was a realization of how reliant their supply chain was on components shipped for China. How do you find alternative suppliers of replacement components at short notice? How do you take back control? Technology can make the risk management of this more visible and give you more control over your supply chain.
Another UK manufacturer was suddenly faced with a supply issue when they discovered that one of the steel printers they depended upon for their product manufacture, had shut down their factory for 3 or 4 weeks. They needed to identify a European alternative quickly but recognized the logistical problems of this. How do you manage export and import delays? And who carries the can if it all goes wrong? How can you simplify the logistics when you can no longer "walk items through" the supply chain? Again, having the right technology in place can provide visibility, traceability and alternatives was key to solving this.
It is also recognized that remote working requires trust; you need to define where the responsibility and accountability sits, throughout the supply chain. In an industry that relies on checking and counter checking, where does the expertise lie and who is accountable when things go wrong?
The events of the last year have brought into clear focus, the varying degrees of preparedness throughout manufacturing supply chains. The impact of just a single point of failure within the supply chain on the entire manufacturing process and an individual manufacturer's ability to remain viable, should be clearer than ever.
Managing production across remote locations
RamBase customer Tritec provides a good example of a business that has planned for remote working, having their administrative team based in Norway, and their production capability 1500 kilometers away in Poland.
Tritec is a group of high-tech companies, offering engineering and fabrication for offshore, maritime and related industries.
Operating across the two different sites posed challenges for Tritec who needed end to end visibility across the business, on everything from the market site in Norway to the production site in Poland.
They needed to be able to track everything and have an overview of the production status from day to day. Tritec pride themselves on delivering the best customer experience which means that predictability, accuracy and the ability to respond quickly to changing requirements are critical factors for them. They needed systems and processes that enabled them to adapt quickly to support changing manufacturing requirements – especially for remote workers in geographically different places.
"RamBase has been a game changer for us"
Tritec went live with RamBase Cloud ERP in 2018 and quickly learned the benefits of having a system that is tailored for companies working with production in advanced manufacturing industries.
"The implementing of RamBase is a game changer for us," says Bjørn Kverneland, CEO of Tritec Group.
Despite having staff in physically different locations, Tritec now has more control over their business with transparency over materials, stock, orders and working hours. With RamBase ERP, Tritec now has the information available at any location, to make reliable and accurate business decisions. Says Kverneland:
"A key strength is the way that you just need an internet connection to be on the system which runs seamlessly, whether you are sitting in an airport, at the office, at home or at a hotel."
And whilst they have had to make further changes in their ways of working in this last year to adapt to the "new norm", they have an underlying platform that accommodates changes whilst enabling the business to continue successfully.
Find out more about how RamBase Cloud ERP continues to support Tritec and enable business continuity in this case study:
A shorter version of this article has been published in Subsea UK digital magazine, view the article via this link on page 6 of the magazine. This article is part of a four-part series. Read the first article here: How to use Cloud ERP as an Enabler for Business Continuity.