As manufacturing practices evolve, so do we. Our customers need an ERP system that routinely works to stay relevant while anticipating future needs of production lines transitioning to Industry 4.0. We are going live with a big update to our Production Work Order application, helping our customers accelerate their production throughput.
New functionalities streamline production work order processes into a centralized location with the new dashboard. Material overview, project updates, team collaboration, and cross-functional processes such as 'sales order to delivery' are visible on the one screen, improving workflow and increasing labor efficiency.
Production Dashboard
The production dashboard gets a fresh new look, and an immersive, interactive interface. New accessibility features are packed with enhancements for key production information including material, customer information, project timeline, location, and production information designed to display relevant information that users expect. In addition, a new redesign for widgets makes it easier for users to stay focused, reducing visual complexity and bringing the most relevant information to the forefront.
What's new?
Key production dates are displayed as a vertical timeline or in a form view.
Project materials now displayed in an interactive pie chart.
Preview files associated with the production.
Several progress bars display the overall work time that is planned and spent on production.
Actions pane gives users actions that are available to complete on the work order.
Links panel connects production processes to other RamBase applications such as structure, cost calculations, planned operations, work-log, picking operations, and stock assignment archive.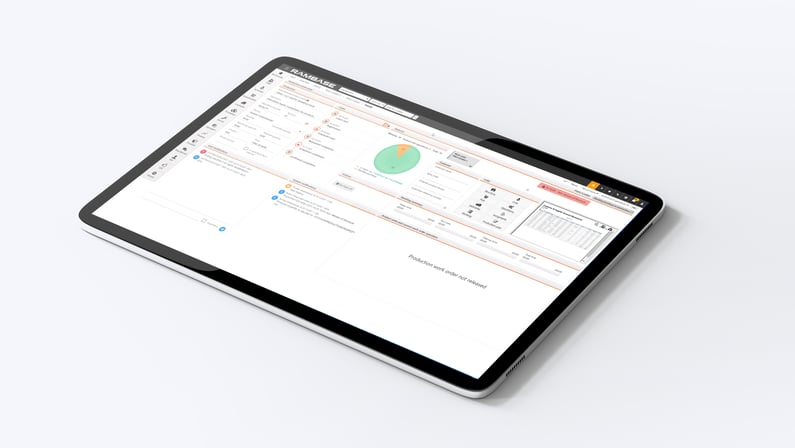 View and manage production information from a centralized application.
Collaboration Tools
Good communication is essential in manufacturing, it is important that your team has the space they need to easily access, view and coordinate within production orders should a issue arise. With this update, your team can now collaborate and stay organised by sending notifications and messages to each other within the applications workspace.
What's new?
User notifications pane allows for users to send notifications and messages within the production work order window.
System notifications sends message strings from the RamBase system to users on actions preformed within the application. These notifications can be adjustments to material quantity, changes to linked files and any changes to the status of the production.
Industry 4.0 ready
RamBase Cloud ERP is a complete business solution that provides full control by linking the value chain into one system that interacts, streamlines, and simplifies all your core processes. RamBase helps businesses within manufacturing and distribution gain control over their entire value chain from sales to production to delivery. Production is one of the many modules available in RamBase Cloud ERP, we cover core manufacturing processes including automated material handling, advanced BOM handling and connectivity to IoT devices.
Read more about how we are supporting smart manufacturing >
The open API makes it possible to connect with ready-made add-ons and connectors to third-party systems and services. Our open API's allow you to extend RamBase to fit your business needs.
Our commitment to providing our customers the cloud ERP solution for their business needs means that our system is continuously updated. This launch is a hallmark of that commitment, with no down-time or differing versions.
"When there are over one thousand parts in a single product, production is only possible with our RamBase ERP system"

Adam Sidorowicz - Improvement & Special Project Manager, AutoStore SP. ZO. O
Read how AutoStore scales their production line with RamBase Cloud ERP
Discover the ERP system your company won't outgrow
Learn more:
Find out more information on the Production Work Order application.
Watch our webinar recording overview of PWOD. This is a great idea if you have questions that may not have been covered in documentation or want a guided tour to see what has been changed.