Regulated industries demand a wider scope of quality management system capabilities. For years, we have offered our customers a modern Quality management system to improve product lines, inspire trust and comply with strict industry guidelines and standards. Now we are extending functionalities and replacing the Quality Assurance Report (QAR) application with Health Safety Environment and Security assurance (QHSES). This module includes new features and dashboard functionalities that will boost quality process completeness and consistency, giving users the tools to anticipate risks, report incidents or health and safety issues on the go, and conduct in-depth post-production analysis.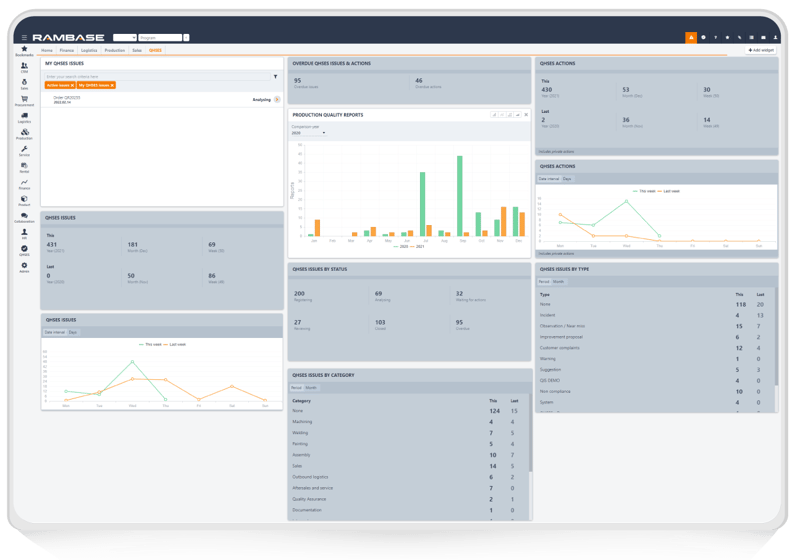 New QHSES Dashboard: Immediate visibility into all risks and deviations unique to your business.

What's new?
Health assessment. Users can now report health and safety issues anonymously.
Consequences. Users can log the consequences of an active quality issue.
Potential risk assessment. Users can set a risk score based on the severity and likelihood of the potential consequence area being assessed.
Costs. Determine the costs to resolving issues, deviations, or potential health risks.
Mobile application. Users can register issues on the go within the mobile application.
External correspondence. Users can generate, log and resolve reports and requests like NCR and CAR

within the application to monitor and document correspondence with suppliers or customers when a deviation will or has occurs.

RamBase MS Outlook add-in. Easily link emails to active quality issues from your inbox

.

New widgets allow an at-glance overview of key figures and status view of quality issues.

Define your risk severity threshold to fit your unique enterprise processes.

Users can create quality issues directly within their work processes.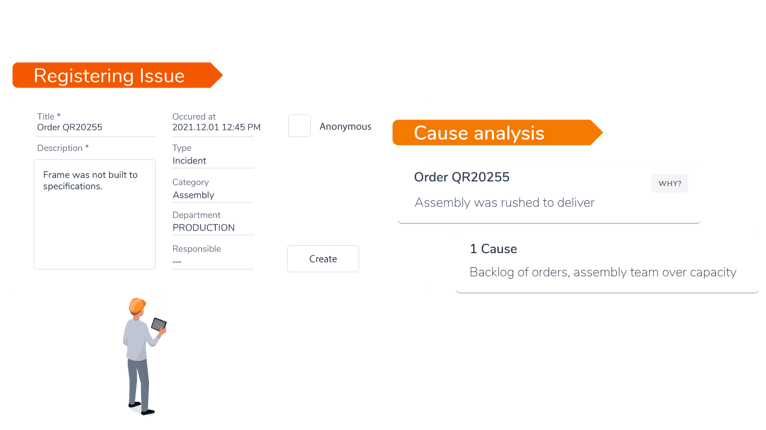 Start Your Risk Assessment Now
Manufacturers have very specific processes that they have in common with others in their industry. RamBase Cloud ERP is a complete business solution that adapts through the power of our whole community of industry users. Our solution stays industry-updated largely from hearing the needs of our aggregate customers on new trends and shifts going on in process areas. We release new functionality through a cycle of continuous upgrades with no downtime.
Get 360-degree control by linking the value chain into one system that interacts, streamlines, and simplifies all your core processes. RamBase Cloud ERP is equipped with a rich set of APIs open for partners and customers to develop smart industry solutions that fit your specific business needs.
Get the Quality Experts on your Side
Learn more:
For more information about the QHSES application, read more about it in our Knowledge Center.
Watch our webinar recording overview of QHSES. This is a great idea if you have questions that may not have been covered in documentation or want to see step-by-step instructions on how to get started with QHSES.