ERP for the CIO
Solutions by company role
As the CIO of your company, you'll most probably find yourself engaged in IT projects across the organization, as digitization is not a process restricted to your department only. The digitization of everyday business has changed the way companies collaborate with their ecosystem, and the way employees in a company interact and work with one another.
It is often the role of the CIO to make sure the choice of software strategy is the correct one and will be responsible for an ERP evaluation and implementation project. Their operational responsibility is to make sure the system works for the business.
AS A CIO YOU NEED TO:
Enable your IT ECOSYSTEM
Make sure that your company invests in a platform that can be the base of your ecosystem, and support your future digital strategy.
RamBase is not just an ERP system, it is an ERP platform with the potential possibility to integrate with all your important processes and system infrastructure.
The possibilities with platform technology are nearly unlimited - with RamBase you get the development tools you need, to find the right solutions for your business ambitions.
Read more about our platform capabilities here.
Always ensure SECURITY, backup and redundancy
Security and safety of your critical business data is a heavyweight on most CIO's. When using our RamBase ERP system your data is always securely stored.
RamBase Cloud ERP is delivered as SaaS (Software as a Service) which is hosted by our EMP-shielded data center in Norway, guarded 24/7 and with full back-up and redundancy.
Our entire data center, including the underground facility containing our critical infrastructure components, is operated by EMP Secure and is built as a bomb shelter. With full area monitoring of security, infrastructure, and operations by our Security Operations Center (SOC), we can provide you with the IT security you need, allowing you to focus on your important digital strategy initiatives.
Control with industry-fit
When choosing an ERP system what your looking for is control. The system has to deliver on the processes that are important for your business. With an industry-fit ERP solution, you get a system that has the features that are necessary requirements for your way of operating.
RamBase Cloud ERP is a perfect fit for the manufacturing and wholesale industries. Learn more about our special industry solutions here.
RamBase ERP Platform
Words like the Internet of Things, big data, artificial intelligence, machine learning, smart factory and digital twins are new technologies that are taking root in manufacturing- and wholesale industries.
Trust Center
RamBase Trust Center aims to gather all relevant information concerning privacy, security, and compliance in one place. You can rest assured that RamBase is committed to keeping your business information and personal data safe in our system.
Get familiar with

CLOUD ERP
All Devices
ERP System
Digital Platform
Community
Price
Security
Cloud ERP on any device
Get full access to your systems at any time, any place and on any device – only requires an internet connection.
RamBase is designed to be responsive and will adapt automatically to the device you prefer to work with.
With the RamBase Mobile App, you can also manage operation workflows, log work hours and approve transactions on the go.
Learn more about our mobile solution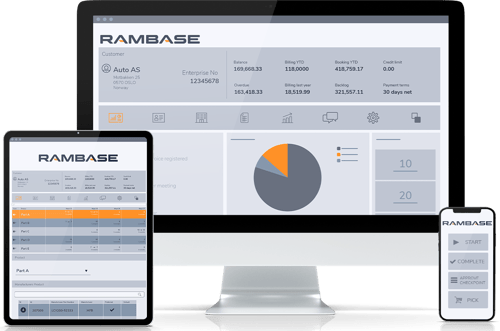 Supporting your entire business
RamBase Cloud ERP covers all the key areas you need to run a seamless and smooth business. RamBase is a complete system that covers the whole quote-to-cash process. Plan, sell, manufacture, buy, report and check your financial status in the same system.
RamBase Cloud ERP provides you with the right information to the right person at the right time.
We offer rich functionality for manufacturing and wholesale industries - the smart ERP choice for the SMB market.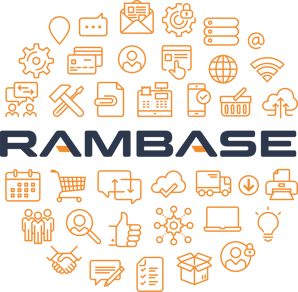 Future proof digital platform
RamBase is a scalable ERP platform giving you a range of opportunities to extend your solution. Stay ahead of your competition with all the tools available for your digital transformation.
Our open API application lets you create the extensions you need to extend the system to fit your needs.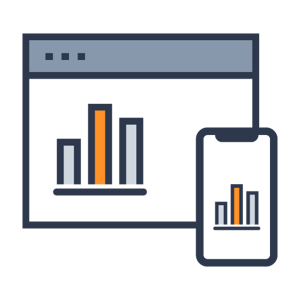 RamBase Learning Community
To continuously improve, there is no better inspiration and knowledge provider than our customers. Our RamBase Customer Forum brings together users to share knowledge and for us to gain insights.
Our YouTube Channel RamBase ERP Learn is regularly updated with new webinars and tutorials.
Looking for an easy "how to do it" description? Then the RamBase Knowledge Center provides a detailed overview covering all aspects of the system that you may need.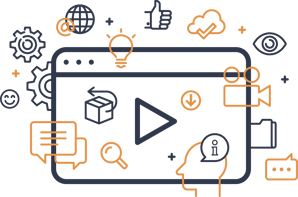 Predictable and flexible pricing
ERP pricing should not be complex and difficult for the customer to understand and manage. With RamBase, we offer a price package that fits your business needs.
There are no upfront payments or hidden costs. You pay per user per month.
There is only one system version for all RamBase users. Meaning no expensive version updates in the future. You do not need to wait to have the best system available: new functionality is released regularly.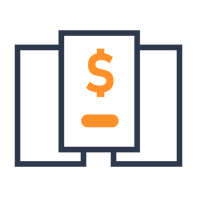 Cloud Security 24/7
With the ever-growing areas of digitalization, your business is open to a higher degree of security vulnerabilities and risk.
We know the trust you put in us to secure your data, and we take this responsibility seriously.
RamBase has the policies, processes, tools and most importantly the mindset in place to safeguard your system.
Learn more about our security culture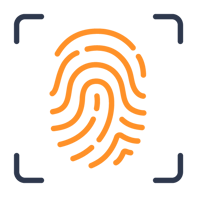 Contact us
We're here to help and answer any questions you might have. Fill in the form and we will get back to you shortly.