We set out to visit Griff Aviation's factory, nestled in the picturesque Sunnmøre region of Norway. Our aim was to witness the production process behind their cutting-edge drones and understand the driving force behind their passion for innovation. Our visit would not only unveil their technological marvels but also shed light on the vital role played by RamBase Cloud ERP in propelling Griff Aviation's success.
Delivering Quality and Protecting Investments
Talking with the people who work at Griff Aviation, we quickly learned that designing, building, and innovating are the heart and soul of their business. During our conversations with the passionate individuals behind the scenes, it became evident that their dedication to pushing the boundaries of drone technology knows no bounds. However, they also acknowledged the need for a solution that could handle the operational complexities, allowing them to focus on their core strengths. This is where RamBase Cloud ERP stepped in, revolutionizing their approach to work and enabling them to work smarter, not harder. With RamBase taking care of the rest, Griff Aviation experienced increased productivity and profitability, allowing them to fully devote themselves to their true passion—unleashing the potential of drone technology and paving the way for a future of innovation.
"We take pride in delivering the highest level of quality to our customers, and Rambase is an essential tool that helps us achieve that goal. It allows us to stay organized, monitor our inventory, and track our finances in real-time."

Andreas Josefsen, Production Manager, Griff Aviation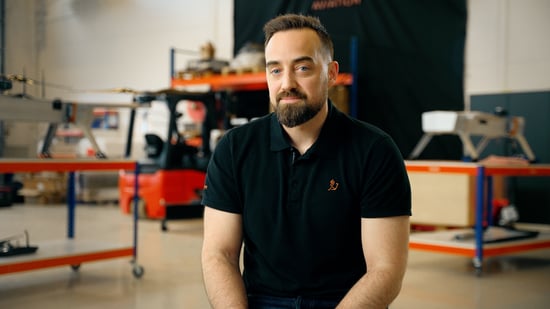 Andreas Josefsen, Production Manager at Griff Aviation
Regulatory Compliance and Investor Satisfaction
In our discussions with the team at Griff Aviation, we gained a deeper understanding of the aviation industry's strict regulatory landscape and investors' requirements for funding new projects. Compliance with stringent regulations and the utmost focus on traceability and documentation are paramount in this field.
Griff Aviation recognizes the significance of meeting these expectations to ensure regulatory compliance and customer satisfaction. Here, RamBase Cloud ERP plays a crucial role in simplifying the complex task of regulatory compliance for Griff Aviation. With its robust traceability and documentation features, RamBase provides a seamless and effortless solution.
"The traceability and documentation features in RamBase have made it easy for us to comply with aviation regulations and meet customer demands."

Andreas Josefsen, Production Manager, Griff Aviation
The team at Griff Aviation has been receiving inquiries from investors and clients regarding their operational processes and systems, aiming to understand their capacity for business growth and scalability. Notably, the successes achieved by Griff in the market can be directly attributed to implementing its efficient ERP system. With the ability to handle increasing data volumes and complex processes, RamBase ensures that Griff Aviation can scale up its business seamlessly without compromising efficiency or quality.
"The scalability of RamBase means that as we continue to grow, the system will be able to keep up with our needs and support our expansion into new markets."

Leif Johan Holand, CEO Griff Aviation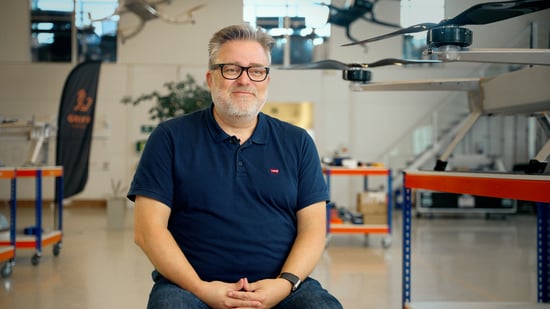 Leif Johan Holand, CEO at Griff Aviation
Real-time Monitoring and Financial Tracking
RamBase plays a vital role in keeping Griff Aviation organized and in control of its inventory, financials, and operations. With real-time monitoring and financial tracking capabilities, the cloud ERP system provides the necessary tools for effective decision-making. Griff Aviation can access up-to-date information and make informed choices, ensuring the smooth functioning of its business and maintaining its commitment to quality.
"RamBase has made our business operations more efficient and streamlined, allowing us to keep our head in the clouds and focus on innovation and growth!"

Leif Johan Holand, CEO Griff Aviation
Assembling a drone requires detail and precision.
Partnership with Arribatec
Griff Aviation's journey with RamBase Cloud ERP wouldn't have been possible without the expertise and support of its trusted implementation and service partner, Arribatec. As a leading provider of digitalization solutions, Arribatec brought its extensive knowledge and experience to the table, ensuring a seamless integration of RamBase into Griff Aviation's operations.
"Griff can expect to have a system with the flexibility to grow and Arribatec as a trusted advisor supporting them in their future plans" Linn Marie Bø, Director Cloud ERP, Arribatec
The collaboration extends beyond implementation, with Arribatec's dedicated support team providing ongoing assistance and prompt issue resolution. The success of this partnership has already been recognized, as Griff Aviation and Arribatec were honoured with the Vertical Application Solution of the Year award at the IT Europa Channel Awards. This accolade demonstrates the positive impact of RamBase and the expertise of Arribatec in driving Griff Aviation's success.
Scaling up for new heights
Griff Aviation's partnership with RamBase Cloud ERP has proven to be a game-changer in their quest for efficiency, quality, and growth. By leveraging RamBase's comprehensive capabilities, Griff Aviation has optimized its business operations, freeing up valuable time and resources for innovation and development. The scalability, real-time monitoring, and regulatory compliance features have made RamBase an indispensable tool for Griff Aviation's success in the competitive drone manufacturing industry. With RamBase as their trusted ally, Griff Aviation is set to continue soaring to new heights in the years to come.

Discover the first captivating customer story of Griff Aviation and delve into the remarkable partnership with Arribatec in our insightful deep-dive exploration.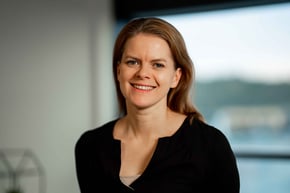 Elisabeth M. Aardal
Elisabeth M. Aardal is the Content Manager at RamBase. She's passionate about communicating complex technology in a format that is understandable and fun. ERP & RamBase is all about control of information, and she thrives on sharing customer stories that have achieved just that.