We are thrilled to announce that RamBase Cloud ERP has been announced finalist for not one, but three prestigious categories at the highly anticipated SaaS Awards! The SaaS Awards is a highly competitive program that showcases the very best and most innovative software-as-a-service solutions in the industry. This recognition is a testament to our relentless pursuit of excellence and our commitment to helping businesses revolutionize the way they operate.
As of today, we are finalists in each of the following categories:
Best SaaS Product for Business Management

Best SaaS Product for ERP / MRP

Best SaaS Product for Supply Chain / Warehouse Management
Going above and beyond for our customers
We are honored to receive recognition from the market and answer the burning question, that is "why do businesses choose RamBase as their cloud ERP provider?" Over the years, RamBase has consistently proved and aimed to be a reliable and innovative solution for businesses of all sizes and industries. With its comprehensive features, businesses no longer have to rely on multiple software systems or manual processes to manage different aspects of their operations. Instead, they can consolidate all their business functions into one cohesive platform, allowing for better collaboration, communication, and decision-making. This dedication to innovation ensures that businesses using RamBase always have access to the latest tools and technologies.
Of course, the testimonials and success stories from satisfied customers also play a significant role in why businesses choose RamBase. In the SaaS awards submission we are showcasing our most recent implementation project with scale-up company GRIFF Aviation. By sharing the story of this impressive customer of ours, we hope to shine light on the value we can offer the industry in growing stronger together with RamBase.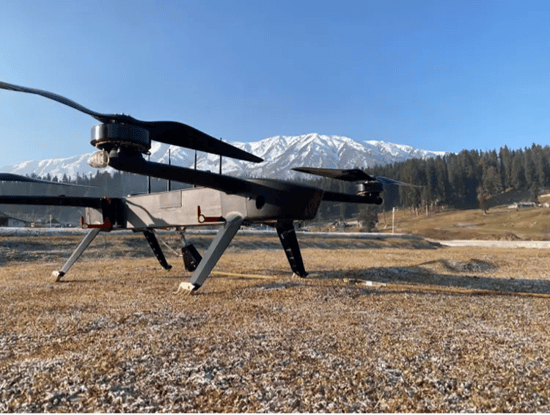 Griff Aviation AS is a Norwegian company that designs and develops Industrial UAVs for the international market.
Griff Aviation rising to new heights
Griff Aviation thrives on its commitment to design, build, and to innovate. Behind the scenes, we encountered a team of passionate individuals driven to push the limits of drone technology. However, they also recognized the operational challenges that came with their ambitious endeavors. That's when RamBase Cloud ERP emerged as a game-changer, transforming their work processes and empowering them to optimize their strengths.
"We take pride in delivering the highest level of quality to our customers, and Rambase is an essential tool that helps us achieve that goal. It allows us to stay organized, monitor our inventory, and track our finances in real-time."

Andreas Josefsen, Production Manager, Griff Aviation
Griff Aviation's dedication to innovation was undeniable, but they needed a solution to handle the complexities of their business while preserving their focus on core strengths. With its robust traceability and documentation features, RamBase provides a seamless and effortless solution.
"The traceability and documentation features in RamBase have made it easy for us to comply with aviation regulations and meet customer demands."

Andreas Josefsen, Production Manager, Griff Aviation

Griff Aviation's partnership with RamBase has proven to be a game-changer in their quest for efficiency, quality, and growth. The scalability, real-time monitoring, and regulatory compliance features have made RamBase an indispensable tool for Griff Aviation's success in the competitive drone manufacturing industry. Along with RamBase partner Arribatec as their trusted ally, Griff Aviation is set to continue soaring to new heights in the years to come.
Click here to read more about GRIFF Aviation's story
Making Progress in the UK
As RamBase continues to expand into the UK, our focus on strategic growth and development remains paramount. To ensure our success, we have carefully selected a team of business system experts and UK partners who possess a deep understanding of the UK business landscape.
Peter Fehily, our UK Partner & Channel Manager, plays a crucial role in our expansion efforts. With his extensive experience in the UK technology sector, Peter understands the unique challenges and exciting opportunities that this market presents. In a market full of fierce competition, it's crucial to stand out . Peter weighs in what the awards means for our company going forward:
"Being shortlisted in not just one, but three SaaS categories, reaffirms our passion to delivering innovative solutions, unparalleled user experiences, and transformative value to our clients. For both our talented Team and our Partners, striving to push the boundaries of what is possible in the digital landscape, this recognition fuels our commitment to evolve, adapt, and empower businesses with technology that drives growth, efficiency, and success."

Peter Fehily
Partners & Channel Management
We are committed to evolving, adapting, and empowering businesses with technology that enables them to thrive and succeed in today's competitive market. Being shortlisted in multiple SaaS categories not only reaffirms our passion for delivering innovative solutions but also confirms the value of our product offering.