With their environmentally friendly cleaning solution for fishing nets, Aqua Robotics has created technology that improves the aquaculture industry both in Norway and the rest of the world. Supporting their growth trajectory, they have partnered with Mazeppa Group to implement RamBase Cloud ERP as their new business platform.
Combining Robot Technology and Aquaculture
In-depth knowledge of the aquaculture industry and passion for technology formed the basis for Aqua Robotics back in 2016. Their HALO system consists of robots that clean fishing nets (merds) around the clock, seven days a week, resulting in good water conditions for maximum oxygen supply and, thus a better environment for the fish.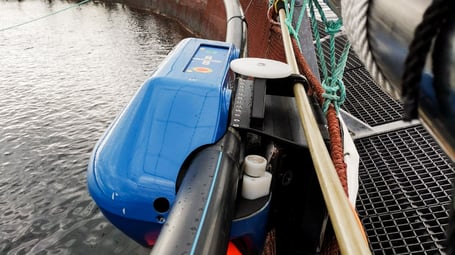 The Halo robot from Aqua Robotics
Aqua Robotics has big growth ambitions for their robot technology and finding the right business system to support their entire business was the next step.
Support by an experienced RamBase Partner
Sales Director at Mazeppa Group, Erik Haaland, says that the signing with Aqua Robotics marks Mazeppa Group's exciting growth ambitions with RamBase.
Aqua Robotics is an important customer for Mazeppa Group. Our industry knowledge and understanding about the robotic industry, combined with Aqua Robotics innovations within aquaculture, is a perfect fit for the RamBase ERP system. " says Haaland.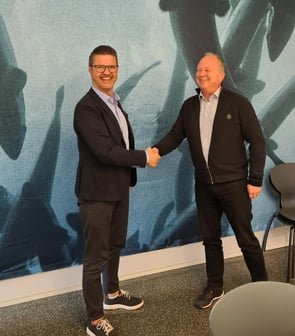 Sales Director at Mazeppa, Eirik Haaland, together with CEO Knut Molaug from Aqua Robotics.
Mazeppa Group signed the deal with Aqua Robotics on the 8th of November and go-live is set twelve weeks from then on the 1st of February.
"We are preparing our organisation and structure for substantial growth the coming years. As a part of this we need a modern ERP system with scalable and up to date solutions," says Knut Molaug, CEO of Aqua Robotics.
With RamBase, Aqua Robotics has found the necessary solutions for product lifecycle management, planning of services, and maintenance, in addition to procurement and manufacturing modules.
We are certain that these solutions will support our strategic direction in providing top services and high quality deliveries to our customers going forward. Supporting our slogan - Always clean net!" concludes Molaug.
RamBase is a cloud-based ERP solution that helps businesses within manufacturing and distribution gain control over their entire value chain from sales to production to delivery.
The system is equipped with a rich set of API's and we encourage our partners and customers to develop smart industry solutions with our open building blocks.