Having worked with different ERP systems over the last couple of decades, CSO in RamBase Odd Magne Vea calls himself an ERP-nerd. He's passionate about getting people to realize that saving time in your core business area is one thing, but the real benefit of ERP is shaping your entire organization to be more efficient.
"When a customer tells me that they now, finally, have attained a full score on a customer audit because of the control RamBase gives them, that says more to me, than any financial percentage or number can", says Vea.
When talking with business owners who are considering implementing a new ERP system, Vea tries to get them to see the whole picture of what an ERP system can do for their organization.
"Having processes like finance, production, procurement, sales, and logistics working with the same real-time data in unison, means you truly get an efficient workflow going in your whole organization and that leads to control of information", says Vea.
Thriving with complex industry requirements
A common denominator for RamBase's customers is complexity. Industries such as automotive, electronics, mechanical manufacturing, and distribution wholesale are not short of having complex requirements and strict, quality specifications.
"The more complex the Bill of Materials, the better. RamBase excels with handling complex product- and production requirements," says Vea.
He follows up this statement by adding that if you're a company that manufactures complex products for demanding customers with strict traceability and quality requirements, then RamBase is a smart ERP choice for your business.
"Complexity is in our legacy. Our owners, Hatteland, started out with manufacturing and distribution of electronics back in the 70s. The need for a system with features for handling complex product and production structures, quality requirements, and more documentation than you can count, comes from real industry insights and need", says Vea.
Avoiding Technical Debt
A recent study found that nearly 90%* of companies that selected a cloud-based ERP system, went for a Software-as-a-Service (SaaS) solution over a hosted model.
Just because the system advertises that it is a cloud-based system, does not mean you get the same advantages. RamBase is delivered as a multi-tenant SaaS solution, which means that all customers are on the same system version but their company data is kept separate.
"Besides never having to upgrade to a new system version every five years, with all the money, time, and resources that entails, the great thing about sharing a system, means you get upgrades continously and you're not building up technical debt ", says Vea.
He further explains that choosing a SaaS model like RamBase, which caters to specific industries, means that upgrades will reflect the most important needs and trends within that industry. "Collectively you are sharing the cost of innovations and you'll not fall behind when it comes to technology enhancements", Vea emphasizes.
Read about Aarbakke's goal of winning the race to Industry 4.0 with RamBase.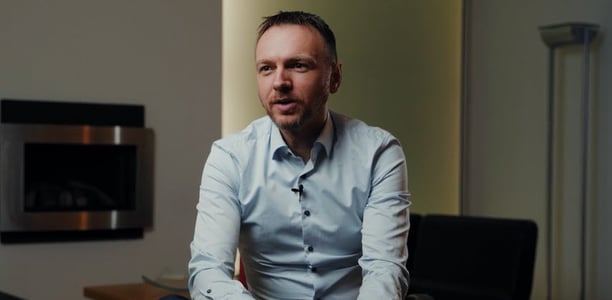 Standardize where it matters - Integrate where you need to
Market research company Forrester found, in their study** examining the top software priorities for organizations, that modernizing legacy and custom-developed applications were among the top three priorities. "Customers switching to RamBase have often been subjected to overly customized solutions, so much so, that they operate with an outdated version that needs to be scrapped rather than updated ", says Vea.
"The great thing with RamBase is its standardized processes, which prevents customers moving into a spiralling train of customization that's hard to get out of", says Vea.
There will always be different needs within industries and two companies are never the same. RamBase is built with API technology, which means that the system is equipped with the tools required to easily share and extract information with other systems.
"Whether it is a company that needs CAD design software integrated with their product setup, or a customer that has a specific niche requirement like a fish harvesting system seamlessly connected with the production processes - both scenarios are no problem for RamBase", explains Vea. Building on a platform approach, RamBase can be extended with ready-made add-ons, and supplier and customer portals.
"If you're punching the same numbers into different systems, then you're already falling behind. With RamBase you have a single point of truth which is key to obtaining real efficient processes for you whole organization", says Vea.
*Panorama Consulting Group, The 2020 ERP Report
**Forrester Analytics Global Business Technographics Software Survey, 2019