RamBase is a cloud-based ERP system for the manufacturing and wholesale industries from Norwegian Jakob Hatteland Computer AS. We have a unique history. The RamBase name has been around for decades, but as a commercially available cloud-based ERP system, it was first released in 2017. In some ways, we are an agile start-up. However, our owners have been around for decades also. They have turned some spectacular technology inventions into highly successful businesses and now sit on a significant war chest. Thus, with RamBase, we have entered the market with our aim at the long game.
Serving customers through partners
Our approach is to serve our customers through resellers exclusively. It is not the fastest route to the market nor the cheapest, but again, with an eye on the long game, we believe it is the model that best serves our customers.
Our success, therefore, depends on both our ability to offer an attractive product that the customers in our chosen segments prefer and our ability to recruit and support successful resellers.
Today, we have business and implementation partners in Norway, Sweden, Denmark, Poland, and the United Kingdom. They have customers using RamBase in full operation, proving that our partner program with onboarding, training, and co-marketing works.
We want to grow our market coverage and therefore need more partners. This article will discuss why ERP resellers should consider switching to or adding a new product to their portfolio and why that product could be RamBase.
The global trends in the ERP industry
The late 20th Century was a party time for ERP vendors. Customers were concerned that their systems would not survive the millennium and invested in new or upgraded versions. With the next millennium more than nine hundred years away, we will likely not experience such a compelling event anytime soon.
Then why and when do customers switch ERP systems, and what do they expect when they do so? Does the demand in the market justify that ERP resellers should review their offerings, and if so, what should they look for?

Replacing an ERP system is a significant undertaking
Companies continue to upgrade and replace their ERP systems, and the events of the last two years with hybrid working, supply chain disruptions and rapid price fluctuations have accelerated that move. Each client has their own situation and motives for making a move. In all circumstances, upgrading or switching an ERP system is a disruptive undertaking that involves substantial risk. The priority, therefore, is to minimize and mitigate that risk.
Read why now might be a good time to rethink your ERP business management system
As all customers have been through the process before, they have learned some lessons that will lead them to prefer that a new solution meets the following criteria:
Public cloud-based and multi-tenant: The public cloud delivery format has been widely accepted. Customers appreciate getting rid of the responsibility for IT operations. They also understand that the real advantage is sharing the platform and the entire software stack with many other users. They want multi-tenant systems delivered from a public cloud.
Fit-for-purpose and customizable: Customers want systems that have the functionality they need in the standard package. The less customization required, the better. However, avoiding some customization altogether is not possible. Open APIs and customization features are still appreciated.
Fast implementation: Upgrading and switching ERP systems is always a disruptive undertaking. It is a significant and risky project added to an already busy workday. Customers want a system that supports their business processes, and they want it in operation as fast as possible. Apart from selecting a system that includes what they need, they will also prefer an implementation partner that understands their business and is intimately familiar with the product in its most intricate details.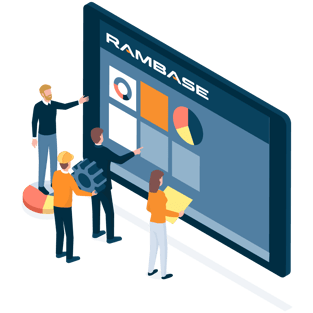 The market opportunity
Although the market for ERP systems may not match the party days of the previous millennium, it is still substantial and fast-growing. Globally it was estimated to be USD 39,340 million in 2019 and is projected to reach USD 86,303 million by 2027, thus on average growing almost 10 percent each year.
In addition, the barriers to entry into the ERP market are high. It takes a considerable investment to bring a new product on the market, and building an implementation service business is not simple, either.
Therefore, my view is that the most significant chunk of the billions of dollars companies spend on new ERP systems each year, will go to and through the already established community of implementation partners.
It's my job to convince some of those partners to switch to or include RamBase in their product offering and then help them become successful. I realize that doing so represents a significant investment and that it will take some time before the venture reaches breakeven and starts returning a profit.
So, what are the good reasons that an ERP implementation partner should take on RamBase?
A captive market
The first reason is the easy one. Our customers typically have operations in other countries and want local partners to help them implement. Further, our global and regional marketing activities generate awareness and interest. We generate leads. If you're going to tap into this portfolio of opportunities, you need to become a RamBase value-added reseller.


The change in demand


All vendors cannot meet the changes in the demand for ERP systems. Replacing your technology from the single-tenant on-premise format, to a multi-tenant cloud-based one, is no trivial undertaking. It requires new skills and additional resources as you also must keep your old system going while you review your options. A switch to a new vendor is like implementing a new system for your customers; you will do thorough research, in the same way, that customers will also look around before deciding. Many customers will replace their on-premises systems with other vendors' cloud-based alternatives – potentially from new suppliers.

RamBase is an excellent match for what customers now want for the manufacturing and wholesale industries. Each reseller will have to assess the situation and decide if this opportunity represents a better way to remain competitive. We believe it is, and we are working hard to make that even more evident.



Maybe now is the most favorable time


The relationship between an ERP vendor and their partners often seems to take on a somewhat unilateral format. In the beginning, the vendor is courtly and attentive. Winning the favour of the partner is essential. In this stage, the vendor needs the partner more than vice-versa. Then as the relationship evolves, it turns more and more transactional. The partner becomes dependent, and with high switching costs, they cannot quickly go elsewhere. The vendor moves on to recruit new partners and have their attention elsewhere.

At RamBase, we also want enough partners to cover the market, but we will never need hundreds of partners in the same geography as we have a niche strategy.

At any rate, partners will benefit from our efforts to build the market for RamBase. We are certainly in a phase where we may need partners more than they need us. If you consider switching or adding a new product to your portfolio and you can align with our industry focus, then now is probably a time when you can do so on the most favorable terms.

The early bird catches the worm☺

There's more to a partnership than just the product
Culture is a real thing, but it is hard to put your finger on what it means in your daily work.
With Hatteland as the owner of RamBase, we have and can sustain, a long-term perspective. We are a private company that doesn't need to chase quarterly measures. There is substantial weight behind our ambitions of becoming a leading supplier of ERP systems to the manufacturing and wholesale industries.
Does coming out of the Norwegian Westland makes us different from other ERP vendors? Do we have a culture from which a partner can benefit?
We do not expect anybody to go with RamBase just because our ancestors were Vikings. However, I am convinced that some benefits are associated with our origins and the culture we represent.
We are operating out of one of the most expensive places globally. You may think that to be a disadvantage, but it is not.
It is simple to do business in the Nordics. Labour costs are very high. Corruption is almost non-existent. Everybody speaks English. What you know is more important than who you know; we speak our mind and prefer you do, too. That's a massive advantage for software companies providing business process or personal productivity improvements. Because of the high labour cost, both the private sector and the governments invest heavily in solutions to produce more for less.
And if you want to visit us, you are up for an experience of a lifetime (we have Hurtigruten and many other popular tourist attractions!!)
Åmsåsen or Silicon Valley
It was Hans Peter Bech who, after visiting us, wrote this passage:
"As I dived into the history of Hatteland, I didn't believe my own eyes, and I was also somewhat embarrassed by my blatant ignorance. Researching for and writing my recent book '5,460 Miles from Silicon Valley' (about Navision and Microsoft Dynamics), I should know better than most that innovation, entrepreneurship, salesmanship and business acumen are rooted in people and not in geographical locations."
Åmsåsen is some 8,250 kilometers from Silicon Valley. It also signifies the difference in culture between start-ups in those locations. In Åmsåsen, we are genetically wired for businesses that take time to get going, and we celebrate signing contracts with customers and partners rather than another round of funding.
Drop me a message or give me a call if you want to know more.



About the author:

Odd Magne Vea is the CSO in RamBase Cloud ERP. He wants to challenge the perception of ERP as hard and time-consuming. As a self-proclaimed ERP-nerd, he loves when a customer really understands the potential an industry-fit system can unlock for growth, quality and control.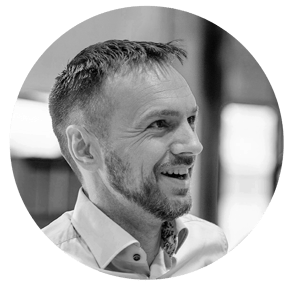 Odd Magne Vea
Odd Magne Vea is the CSO in RamBase Cloud ERP. He wants to challenge the perception of ERP as hard and time-consuming. As a self-proclaimed ERP-nerd, he loves when a customer really understands the potential an industry-fit system can unlock for growth, quality and control.