Self-service portals
Learn how partners can easily develop self-service portals for their customers with the RamBase framework.
Next level interaction
There is a shift in the way people interact with businesses. Scanning your own groceries, buying clothes online, booking appointments through apps; we're moving more towards self-service options. However, in B2B commerce a lot of customer and supplier interaction is still done through ineffective communication methods like mail or over the phone. Don't let your ERP customers fall behind, deliver them a competitive advantage by offering self-service portals integrated with their ERP systems. Let's show you how RamBase partners can easily build customized self-service portals for your customers.
Understanding the framework
So, where to start? RamBase is an ERP system with features that cover the complete quote-to-cash process. All these features are pointless to offer in a portal, so you have to pick and choose what your customer is really interested in turning into self-service options. And this is where companies and industries vary in needs, and the concept of customizing your own portal becomes a key ingredient.
Let's start with grasping the building blocks of RamBase called applications and API's. All the features in RamBase are just several applications put together to communicate with each other. (It's a bit more to it than that, but for this narrative let's leave it at that.) The communication part in the system is done by a set of very rich API's. API is short for Application Programming Interface and simply put, is an information gateway that allows two applications to talk to each other.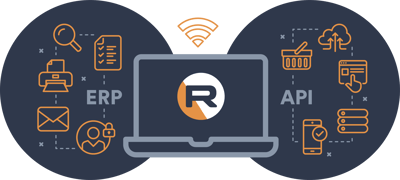 What RamBase brings to the table is a set of API development tools that lets you customize and adapt a portal to fit your customers' unique business. RamBase is not just an ERP system, but an ERP platform that opens integration possibilities for all partners and customers to work with. The RamBase platform empowers developers from partner companies to quickly build and deploy trusted cloud applications that are solid, secure and scalable without worrying about hardware provisioning or application stacks.
You don't have to be Bill Gates
The great thing about RamBase for our partners (and customers), is that we welcome you to build with RamBase. And you don't have to hire the next Bill Gates to start building. Some standard IT knowledge is preferred, but you don't have to be a hard-core-code-fanatic to get started. RamBase delivers out-of-the-box tools to start building integrations, or in this case self-service portals.
To help Partners and customers get started with brainstorming ideas for new RamBase applications, you can get in touch with a RamBase System Developer or do your own study tour in the RamBase Support Centre.
RamBase Development Guidelines.

Everything developers and designers need to know about creating and maintaining RamBase applications and components.

https://developer.rambase.net
RamBase API Catalog. All the information

you need to get started with using the RamBase API, - from authentication to advanced filtering and sorting.

https://api.rambase.net



RamBase portal vs external web platform
If you're working in the B2B industry and you need to work more efficiently with your customers, suppliers or any other stakeholder, then offering a self-service portal is a smart solution.
When considering a portal option, the alternative could be to go for an external web platform. Let's convince you why an integrated RamBase portal is the better solution.
No external hosting.

Integrated portals have the same secure RamBase hosting.
Zero maintenance.

Portals follow RamBase free updates 24/7.
Quick start.

Portals are built with the RamBase ERP framework. Meaning you're not building from scratch - the applications are already in your system to start working on.
Same high-security standards.

The portals will have the same secure RamBase user management as your ERP system.
Fast finish.

Easy-to-use tools and available graphical elements allow you to get to your goal quickly and build feature-rich applications.
Just to make it clear, a self-service platform is not the same as a full e-commerce solution. If that is what your customer needs, you should find an e-commerce solution and integrate that system to talk directly with RamBase.
A sleek customer portal
Let's show one example of a logistics customer that has embraced the benefits of offering a self-service portal for their customers. While they primarily provide international and national freight forwarding, they also offer a storage solution for their customers. To save both time and money, they provide the following self-service applications for their customers:
Search function for items in storage

Place order for shipment of inventory
See shipment order history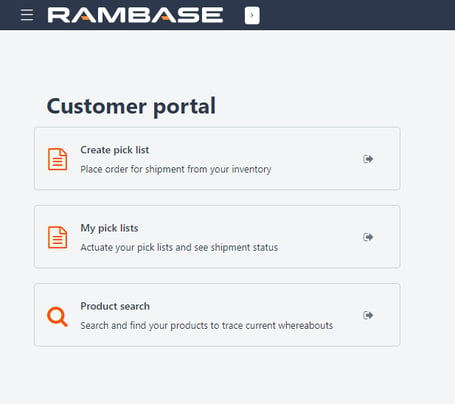 A clean portal view for customers to perform three time-saving tasks.
This self-service portal works sort of like a webshop, where customers can search the items in storage, identify what they would like to ship and add them to a picklist. The portal is connected directly to the RamBase ERP system. A sales order is then generated automatically when the customer clicks "send" in the portal. The logistics personnel can then start to pick and ship items to the customer without the back and forth email correspondence they had before.
The portal gives customers the ability to initiate orders and view order history.
Efficient supplier interaction
Another RamBase customer, an electronics manufacturing company, has multiple suppliers that they do daily business with. The to and fro process of confirming sales orders needed to be more efficient for both parties. Their solution was to add a self-service portal directly connected to the ERP system. The portal was customized to let the suppliers do the following tasks:
Check order details and confirm orders
View order confirmation details, shipping and delivery details.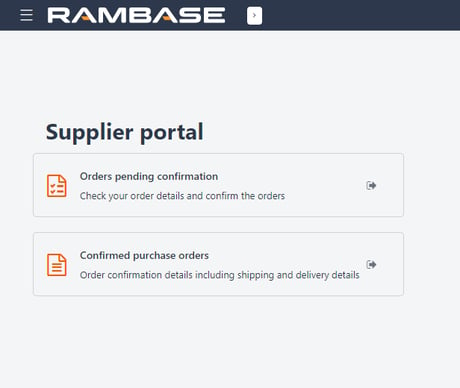 A portal with two easy to use features, and the option to add more tasks in the future
Save time and happy customers - why wait?
Helping your customers to help themselves - that's what a self-service platform is all about. The tools to start building the portal for your customers are available and the benefits are plenty:
Reduce support cost.

Real interaction with your customers is important, and lets your service employees use their time wisely. Self-service portals reduce time spent on simple tickets and mundane phone calls and service time can be better spent to tackle more complex customer or supplier issues.
No waiting for information.

You're basically offering a 24-hour support function. By letting your customers get real-time information extracted from your ERP system, they can find the information they're looking for at their own pace.
Satisfied customers.

Offering a self-service portal is not perceived as shuffling the workload over to your customers. On the contrary, a self-service portal is seen as a positive solution that increases customer satisfaction.
Improve your reputation.

It's never a bad thing to show that you're on board with new technology trends. There is

a shift in the way customers communicate with businesses and s

elf-service options are on the rise. Show that you're willing to invest in this service for your customers.
Interested in learning more about RamBase? Read more about our partner program and platform possibilities.
Contact us
Interested in learning more about RamBase? We're here to help and answer any question you might have. Fill in the form and we will get back to you shortly.