AutoStore, the Norwegian robot company, has had impressive growth since their prototype was launched in 2002. The robots are in the process of revolutionizing how warehousing operations are conducted worldwide. RamBase Cloud ERP is part of the success.
"There are many warehousing solutions to choose from in the world, but there is none like AutoStore," says Karl Johan Lier, CEO of AutoStore.
AutoStore is a unique automated warehousing and picking system suitable for all types of businesses in retail, e-commerce and distribution. The warehouse solution increases efficiency and productivity and provides better customer satisfaction.

RamBase enables growth ambitions.

AutoStore controls its business processes with the Cloud ERP system RamBase, which has been specially developed for industrial and production companies.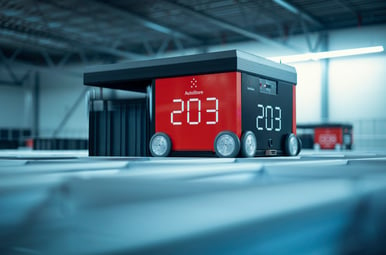 RamBase covers all sales, purchasing, production, logistics and quality processes, including a full financial solution. With a cloud ERP system fit for the high-tech and electronics industry,

AutoStore has a solution that ties everything together and makes growth possible without losing control. For the past five years, AutoStore has grown nearly 50 per cent each year.

"Covid-19 gave somewhat flatter growth last year, but we already see now that the market has picked up again. We plan to hire 100 new employees in 2021," says Lier.
A solid ERP system is needed.
"Imagine a warehouse that saves up to 80 percent floor space. This is what you get with AutoStore," says Lier.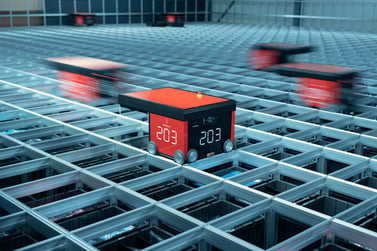 He explains how the storage solution works: AutoStore includes battery-powered robots, storage boxes, operator doors and an aluminium skeleton. The robots bring boxes to and from operators. All this must be designed, produced, sold and transported and requires control at all levels.
"Global customers and ambitions for growth require a solid ERP system. RamBase gives us full control, and makes us productive and efficient," Lier points out.
Read more about how AutoStore controls one thousand parts in a single product with RamBase.

Harvest international prices
In 2020, AutoStore was highlighted by the Financial Times as one of Europe's most exciting and successful companies in Europe, and named Norway's first Unicorn. Lier explains the Company's success to a strong culture rooted in the desire to create unique technology.
"We are always most concerned with new goals that lie ahead of us. The long-term trend is that more people are moving online and that will require more automation globally. It means more opportunities for growth for AutoStore, a growth that requires control at all levels which RamBase gives us," Lier concludes.