The annual RamBase Partner Gathering was yet again held as a digital event due to Covid-19 considerations. The excitement among the RamBase team of holding a live event together with partner participation was palpable! Streaming live from the Norwegian Architecture and Design Centre in Oslo, the event highlighted interesting customer cases, introduced the RamBase Partner Sales Team and showcased some new features and functions that have been developed in RamBase during the last year.

On air during the live-stream:
Content Manager Elisabeth Aardal, CSO Odd Magne Vea and Senior Product Architect Jan Ove Halvorsen.
Reaching new milestones with Aarbakke
The session started off by talking about the exciting implementation project that is Aarbakke. They are known in Norway for being leaders when it comes to automation and deploying smart factory solutions. CSO in RamBase, Odd Magne Vea talked about why Aarbakke's way of operation is such a perfect match for RamBase:
The production module in RamBase is basically built for their kind of business. Order based manufacturing with high demands on margin control, traceability and documentation. So when we show them the standard processes in RamBase they can relate to them right away.
Aarbakke represents one of the biggest customers for RamBase so far, only surpassed by Autostore. The implementation is done by Mazeppa who was the first implementation partner with RamBase.
What is great about Aarbakke is that they see the full potential in using almost every inch of the RamBase system and platform, says Odd Magne.
Helping our partners succeed
To help our partners get up and running selling RamBase into the market, there are some people working hard behind the scenes to make that process happen. The RamBase Partner Sales Team work every day to help our partners succeed.
As a RamBase partner, you're not all on your own, as this team is dedicated to supporting sales activities. Odd Magne highlighted the following support during the live stream:
One of the things we support with is positioning and selling RamBase the best way possible. We talked about Aarbakke earlier. Moving from an old M3 installation and inhouse modifications to a modern SaaS system is a huge shift. And even if it's still much of the same that needs to be solved in the ERP system, the mindset and sales strategy needs to be completely different than before. This goes for positioning, presales, implementation strategy, sizing, etc. Everything. We can not sell and implement a modern SaaS offering the same way we did with the old on-premise solutions. Then we will fail.
Being a RamBase partner opens up different revenue streams for the right partners. Some will focus on standardized implementations and build recurring revenue from a growing number of users. Others will take on heavy integration projects, potentially including their own applications and make more service revenue; and others will perhaps find different ways to generate revenue that we have not thought about.
Having RamBase in the portfolio gives partners a modern offering to customers and gives them an opportunity to generate revenue on implementation, on advisory, on integrations and other services. It's about running and growing a business. Both for the end customers and the partners.
Exciting new features
RamBase Cloud ERP comes with no costly version upgrades. New features and functions are released regularly, allowing our customers to operate at 100%, never worrying about costly downtime and paying for the same system over and over again.
For the Partner Gathering, it is always exciting to highlight some of the new features that have been released during the last year. The animation below showcases some new features and at the end, gives a sneak peek of what's to come.
During the livestream Senior Product Architect, Jan Ove Halvorsen from the Product Department was invited to talk about three topics that are of great value for our partners:
Business Intelligence
Portal Offerings
Mobile Applications
Experience over the recent years shows that more and more customers are asking about Business Intelligence and maybe more specific about Power BI. Three different approaches regarding deploying options for BI with RamBase were discussed at the event.
Another important topic is the benefits of using portals with your ERP system. Portals are a terrific way for businesses to get more efficient processes with their suppliers, customers, or whomever they're doing daily interactions with. The sky is the limit for what ERP processes that RamBase customers can turn into self-service processes through a portal offering. For RamBase partners with new and existing customers, this is a golden opportunity to show that the old way of communication with your surroundings can be done more efficiently. For more detailed information about portals, check out this article: Self-service portals in RamBase
A complex system like RamBase is always best on a big screen, there is no moving around that. New applications on the RamBase App are a good way to get more stuff done wherever you are and on the device you have available.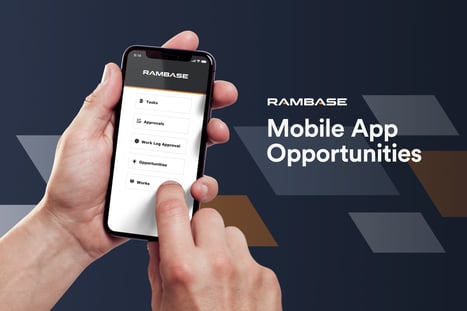 If you're interested in learning more about becoming a RamBase partner contact us for an informal talk, or read more about what a RamBase Partnership entails.