If you travel out to the southwestern part of Sweden surrounded by majestic green fields and breathtaking nature, you'll find Herrljunga. The small town is short of 4000 residents and is most known for its famous cider brewery sharing the name. What you might not expect to stumble upon in that rural backdrop is a state-of-the-art, high-tech electronic manufacturer.


DYNAMIC PRECISION SOLUTIONS
We travelled down to Herrljunga to chat with the ample people of Dynamic Precision Solution after implementing RamBase Cloud ERP.
DPS, founded in 1963, is a fully flexed electronic manufacturer bringing products from ideas to prototypes and finished products. Their processes start with choosing the right components from their stellar component database system before designing, developing, and prototyping. Expertise and excellence come to play when working with different industries such as medicine, radio, and healthcare.
"We are here to bring things to life."
- Anders Gustafsson, CEO.

Check out five reasons RamBase Cloud ERP is a perfect fit for Electronics Manufacturing Service (EMS) companies.

WHAT THEY NEEDED FROM AN ERP SYSTEM
State-of-the-art electronic manufacturers such as Dynamic Precision Solutions have a lot of things to keep track of throughout their everyday life. Several systems must be managed to run operations, keep track of information and data, and communicate across departments. As they got ready to elevate the business further, they chose RamBase as their Cloud ERP system.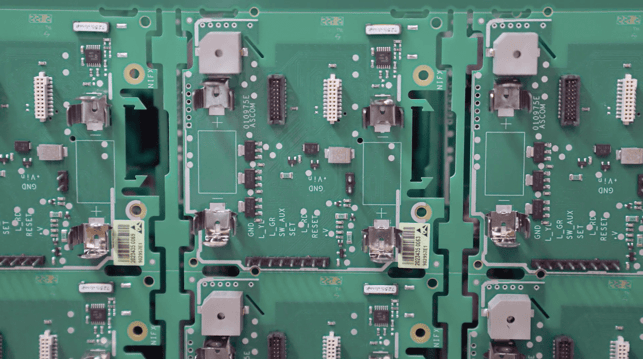 It gives us great joy to travel down to the magic of Herrljunga and see that the implementation has been a success. After all, everything happened rather quickly. The whole switch went live six months after DPS decided to implement RamBase, which took a lot of work from both sides. Implementing an ERP system is a demanding but rewarding process.
Anders Karlsson, COO of Dynamic Precision Solutions, tells the story of how they needed a future safe, web-based, and easy-to-manage ERP system to connect the dots of their business. Also, they are dependent on a cluster of systems to operate on all sides of the company.
"The main reason why we decided to use RamBase in the future was that they deliver an open API so we can still use a lot of the applications that we have in the factory, that we still need to use", he shares.
Anders Karlsson, COO, Dynamic Precision Solutions.

A NEW EVERYDAY WORK-LIFE WITH RAMBASE
For us in RamBase, one of the most rewarding feelings after a new implementation is seeing how the company and employees are enjoying the new everyday work-life.
Their stocking methods for their inventory needs are more efficient than ever. Dynamic Precision Solution's Production Planner, Christina Sävevik, takes care of customers' orders. She makes sure everything is produced and delivered on time and uses RamBase to control and check everything:
"It feels like a very safe system to use. It tells us if we are making a mistake", she says.

There are numerous features to a full-flex ERP system, and one of DP's favourite RamBase features is dynamic BOM management. This provides a detailed and accurate overview broken down to raw materials, parts, components, assemblies, sub-assemblies, and operations required to make one unit of DP's electronics products.
And then it's the most crucial thing for an electronics manufacturer: consistently delivering quality products. With an integrated quality management module, DPS can be proactive to quality issues in every phase of the manufacturing process.
No matter the functions: for an ERP system to help you elevate quality, safety, and efficiency, it has to be user-friendly. Christina continues:
"RamBase is a very easy system to use. Every operation I do, I mainly do in RamBase."

PREPARED FOR THE FUTURE
Dynamic Precision Solutions saw a need to prepare for the time ahead, and they found an industry-fit solution and carried it out. Choosing a system that caters to the electronics manufacturing service (EMS) industry and going through implementation is the first step in rigging up for the future. The industry-fit functionality delivered by RamBase was the final decision-maker for DP.
Now, they're ready to take on every piece of growth that comes their way and scale effortlessly hereafter. Team RamBase is excited to follow Dynamic Precision Solutions on their journey!