Over 67% of B2B companies use digital channels for their sales process, according to the 2022 Nordic Digital Commerce report(1). With B2B eCommerce spending predicted to reach $3 Trillion by 2027(2), there is a growing demand for a trusted, industry-fit eCommerce solution. Which is why RamBase is partnering with Litium, a scalable eCommerce extension for manufacturers and wholesalers.

Why Litium is the perfect fit for manufacturing and wholesale
Historically, integration between eCommerce and cloud ERP has often been complex due to complicated business processes or software missing core functionality. This strategic partnership with Litium provides our customers with the best of both worlds, rich cloud ERP functionality with the tools they need to manage the demands of online business.
Seyamak Arkannia, Director of Strategic Partnership at Litium says,
"A big advantage is that we are now dealing at the right level, without any intermediaries. Systems experts are currently working to make sure everything functions flawlessly,"
Odd Magne Vea, Chief Sales Officer at RamBase, adds,
"This means customers can be confident that the integration has been correctly built by both companies. We can also iterate and further develop both platforms gradually without losing functionality."

Why digitize your products?
Buyers increasingly rely on manufacturers' eCommerce sites and marketplaces and less on account representatives to make their purchases. This activity will only increase as eCommerce offers effective ways to reach customers via a digital purchasing experience. With Litium, you get a range of ready-made components that gives you all you need to set up your products quickly.

For companies with global ambitions
B2B companies in the Nordics, especially manufacturers, tend to have a strong focus on exports. 59% expect to sell outside their home market through digital channels in the next three years. To stay ahead, you need a platform to facilitate international sales and configure new markets, including payment methods and that supports multiple currencies, languages, and country-specific VAT groups. RamBase, together with Litium, supports companies that have global ambitions and who need a powerful platform with room to scale.
Read more: AutoStore and the growth generator RamBase - A perfect match

Connecting with your customers
As more buyers use digitally connected devices like smartphones and tablets to discover, compare, and purchase products, sellers, need to up their digital game. Sellers need to accommodate clients who buy at odd hours and expect to get instant answers. In addition, customers increasingly want experiences that only best-of-breed solutions can fulfill (3).
Create the customer experiences you need to stand out with your products. With Litium, you can build exactly what you want because you'll have 100% flexibility and no lock-up. Handle your content and product information smoothly with enriched product information that gets attention so that you can convert visitors into customers.
Odd Magne Vea, Chief Sales Officer at RamBase says:
"This does not come a day too soon for customers. Now we can help them accelerate their businesses and really take advantage of the investments they have already made. We integrate our platforms from the ground up, which means we can highlight all the fantastic functionality that already exists in the systems and make both better."
The cloud ERP platform you won't outgrow
Get 360-degree control by linking the value chain into one system that interacts, streamlines, and simplifies your core processes. RamBase Cloud ERP is equipped with a rich set of APIs open for partners and customers to develop industry solutions that fit their business needs.
Read more: Learn how to customize, develop, integrate, and extend RamBase with our developer resources
Interested in a demo?
See how Cloud ERP can transform your business. Send us a message for a quick tour of the platform.
References:
1. New Nordic Digital Commerce in B2B 2022
2. Forrester, 2022 B2B E-Commerce Forecast, US. June 2022
(3) Forrester, Make Your B2B Business A Digital Business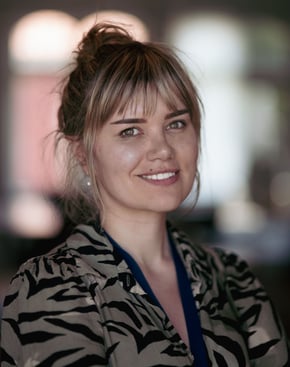 Olena Taymanova
Olena Taymanova is a passionate product marketing specialist with a talent for crafting compelling articles that explain the latest functionality of products. With a deep understanding of how products are developed and marketed, Ollie has a knack for simplifying complex concepts and making them accessible to a wide audience.