"We're probably not the most typical ERP customer, and that's precisely why we needed a partner who was willing to continuously work with us to find solutions," says CEO of Seagarden, Rune Paulsen.
Seagarden is a relatively young company, with an impressive growth history: Since its start in 2000, they've had a steady focus on the production of protein ingredients for the food industry; dry ingredients for soups, sauces, and broths, until 2015 when the company decided to take a whole new and crucial turn.
"We decided to invest in something new and move into the health food industry. We developed our own collagen which we knew there was a market for, and over the following five years, we worked to develop production and build capacity. Today, millions of people eat products from our factory on a daily basis," he says.
A rapid growth spurt demanded higher levels of control
The change led to explosive growth for the company, and eventually, the volume became so large that significant growth pains appeared on the IT side of operations.
"With demanding customers abroad, several systems became difficult to use, so we ended up buying a number of additional systems. Suddenly we had separate systems for accounting, invoicing, storage, and production; none of which communicated well with the others. It became increasingly difficult to have control the more the company's speed increased. Last year we decided we had to do something to gather everything into one system", says Paulsen.
He explained the importance of traceability in Seagarden's industry, and even though the company has had good control in that area for the majority of the way, the rapid growth presented challenges.
"It is easy to have control over production when you're a small company, but as you grow it becomes more and more difficult to maintain. As we grow, we therefore depend on a system that can easily give our customers full insight from the moment the fish is caught, until they have received the product."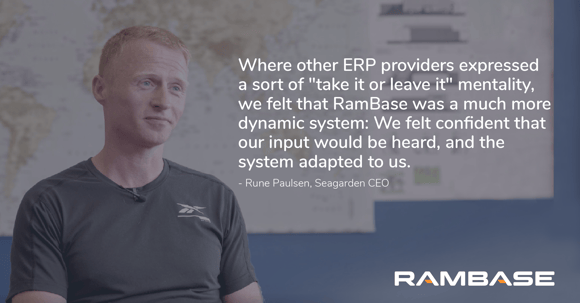 RamBase flexibility is crucial for future growth
The crucial thing for Seagarden was to find a flexible system, emphasizes Paulsen, who himself has experienced that some of the more "traditional" systems get in the way, rather than help.
"We work with large customers, and often have to deal with extensive systems such as SAP, and we've experienced how confining those systems can be, which often causes difficulties; Things come to a halt on the customer's side because of restraining systems," says Paulsen.
He adds that where other ERP providers expressed a sort of "take it or leave it" mentality, Seagarden felt that RamBase was a more dynamic system.
"We felt confident that our input would be heard, and the system adapted to us", he says.
Getting ready to double last year's turnover
Just a couple of months after the implementation of RamBase, Seagarden has already seen important results: Paulsen reports a full overview and control of inventory, in addition to major improvements regarding sales and purchasing.
"The fact that we see such results already is incredible; I can watch as new customer orders come in, see what goes out, and see what's in stock at any time. It's motivating for every employee to be able to see the numbers daily," says Paulsen.
Despite an already impressive growth period, Seagarden does not intend to slow down but has big ambitions for further growth. This year's plan is to (at least) double last year's turnover, and to expand production on a national basis."It wouldn't be possible to keep our current growth going without a well-functioning system; Having RamBase in place means we can concentrate on doing what we do best."