In the May edition of the Subsea UK Magazine RamBase had an article published in the technology section. Telling article considered why RamBase Cloud ERP system can be a Best-of-Breed growth solution for subsea industries.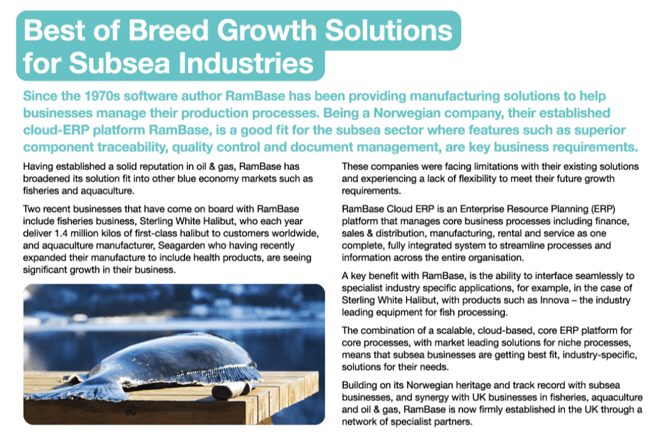 Excerpt from Subsea UK Magazine May Edition
Best of Breed Growth Solutions for Subsea Industries
Since the 1970s software author RamBase has been providing manufacturing solutions to help businesses manage their production processes. Being a Norwegian company, their established cloud-ERP platform RamBase, is a good fit for the subsea sector where features such as superior component traceability, quality control and document management, are key business requirements.
Having established a solid reputation in oil & gas, RamBase has broadened its solution fit into other blue economy markets such as fisheries and aquaculture.
Two recent businesses that have come on board with RamBase include fisheries business, Sterling White Halibut, who each year deliver 1.4 million kilos of first-class halibut to customers worldwide, and aquaculture manufacturer, Seagarden who having recently expanded their manufacture to include health products, are seeing significant growth in their business.
These companies were facing limitations with their existing solutions and experiencing a lack of flexibility to meet their future growth requirements.
RamBase Cloud ERP is an Enterprise Resource Planning (ERP) platform that manages core business processes including finance, sales & distribution, manufacturing, rental and service as one complete, fully integrated system to streamline processes and information across the entire organisation.
A key benefit with RamBase, is the ability to interface seamlessly to specialist industry specific applications, for example, in the case of Sterling White Halibut, with products such as Innova - the industry leading equipment for fish processing.
The combination of a scalable, cloud-based, core ERP platform for core processes, with market leading solutions for niche processes, means that subsea businesses are getting best fit, industry-specific, solutions for their needs.
Building on its Norwegian heritage and track record with subsea businesses, and synergy with UK businesses in fisheries, aquaculture and oil & gas, RamBase is now firmly established in the UK through a network of specialist partners.
Read the full Magazine here: https://www.globalunderwaterhub.com/magazines/may21/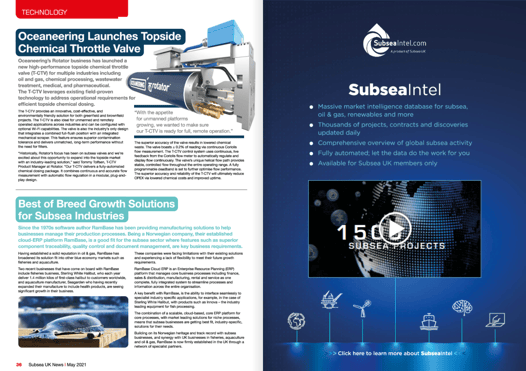 Excerpt from Subsea UK Magazine May Edition page 36