Partner representatives from Norway, Sweden, UK and Poland visited the west coast of Norway for the annual RamBase Partner Gathering. During the two-day event, our partners got an update on product strategy and new releases, as well as hands-on sale success stories and insight into how to build a modern IT architecture - from a customer's perspective. With the Partner Gathering, RamBase aims to connect and strengthen the partner network - working together to share RamBase with the world.
"Our partners play a vital role in our customer success. The chance to meet in person and, in turn, for our partners to meet each other is very valuable for experience sharing and further collaboration," says Odd Magne Vea, Chief Sales Manager in RamBase.
Experiencing the west coast of Norway
There could not have been better weather for this year's partner gathering, which was set at the beautiful Solastrand on the west coast of Norway.

Preparing our international partners for the Norwegian autumn weather and ending up with a clear sky, 21 degrees, and bathing temperatures is fantastic.

The event started with sightseeing in the open cultural landscape at Sola, which included visiting a medieval church, boulder stones, a walk on the beach and, for the bravest, a swim in the ocean.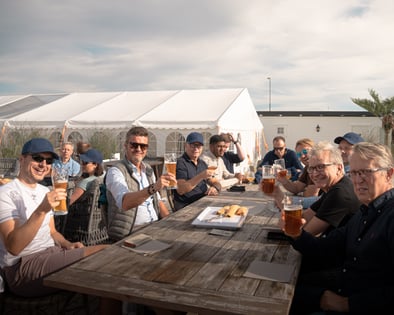 Finally, face to face again!
After having hosted virtual gatherings the previous two years, it was wonderful to finally meet our international partners face to face.
Read more: Connecting with our partner - Digital Partner Gathering 2021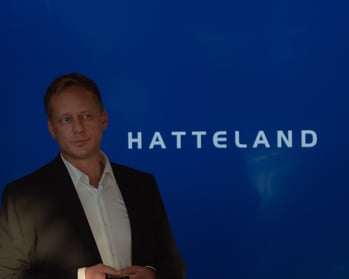 During his welcome speech to the partners, the CEO of RamBase, Stig Hatteland, emphasised that building a company is only possible with people working together for the same vision.
The RamBase Partner Gathering is evidence of the commitment to strengthening collaboration across borders and everybody working together on the same mission for RamBase.
Clear focus ahead
Newly appointed Chief Product Officer (CPO), Andreas Hellström, shared his strategy and plans for strengthening the Product Management Department. The key takeaway from his presentation is that RamBase will focus on strategic industries for which RamBase Cloud ERP excels and a continued innovation course.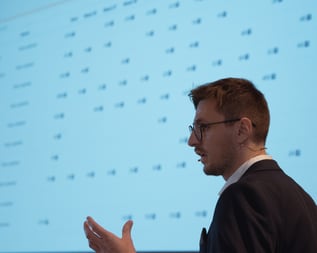 Satisfying partners' craving for product news, Sr Business Analyst Kristian Aas and Business Analyst Eldin Jakupovic (pictured) took a deep dive into new product releases. The much-anticipated product order delivery sub-module got a nod of approval from the participants.
Read more: Sell your services with our flexible project order solution
Building a modern IT architecture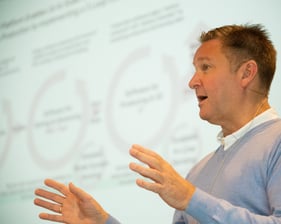 The role of IT is changing. As companies transform into digital organizations, they add new technology and build new structures and processes. This transformation is not just an activity for the IT department but gives IT a unique role within the entire organization.

Knut-Olaf Rusten, VP of IT at FREYR, talked to us about how building a modern IT architecture is the key to future success. Understanding Rusten's plans for IT at FREYR shows how vital understanding your customer's IT maturity is when introducing an ERP system into the IT architecture.
Celebrating proactiveness - The RamBase Enthusiast Award 2022
The RamBase Enthusiast Award celebrates the achievements of our partners and individuals who have, during the year, shown extra effort towards the RamBase Partnership. This year the RamBase Award was given to Norwegian partner Arribatec for their proactiveness towards all areas of the brand.
Odd Magne Vea, CSO at RamBase, had the following statement about Arribatec's performance this year:
"Arribatec is a hardworking partner. They works in a strategic and structured way and has a dedicated ERP sales and marketing team. Arribatec has invested in a RamBase certification plan for their employees. They always joins events and processes with a positive, engaged and proactive team!"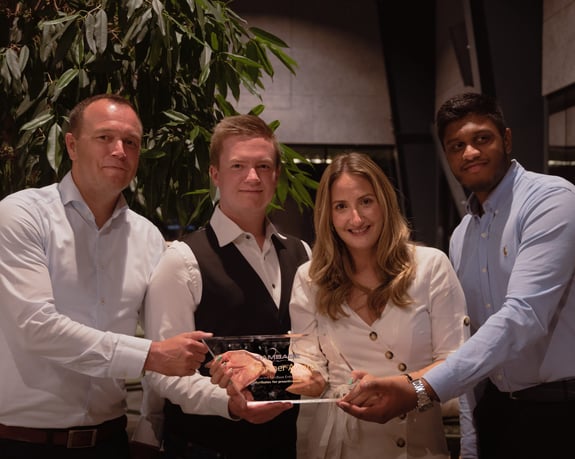 Congratulations to Arribatec for their proactiveness! Until the next partner gathering, thanks to all partners that attended the event!
Want to join our RamBase Partner Community?
Check out our partner proposition and become part of the growing number of partners selling the new Nordic ERP solution - RamBase Cloud ERP.