"Going forward RamBase will be one of our key factors to further growth in handling offers, orders, parts, really everything. We are using a system that can take us from 0 to 200 in no time and we don't need to change the way we do things; we just need to keep doing what RamBase helps us do"
In 2019, this quote from Per Kverneland, in his role as Managing Director of VVS Prefab, summed up his expectations for implementing RamBase as their new ERP system.
Since the implementation, VVS Prefab had nine months of ordinary production before the global COVID-19 pandemic struck. The months that followed have been hard for most manufacturing companies now constrained by strict infection control rules.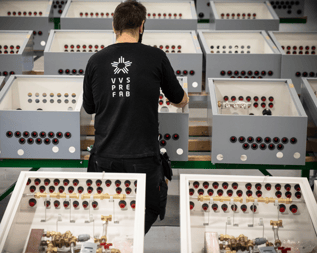 Nevertheless, VVS Prefab has risen to the occasion with strong growth, despite the obstacles thrown at them during 2020. They have benefited from many useful features in RamBase to help them grow during this period.
Interested in how VVS Prefab's journey with RamBase started, read: VVS Prefab: "RamBase will be one of our key factors to further growth.
Reducing supplier dependency
As the first cases of COVID-19 began emerging in Europe, the Italian government issued a local lockdown in the province of Lombardy in February 2020. The Lombardy province is considered the industrial heartland of Italy. Companies dependent on products from this region saw production falter due to longer delivery lead times. VVS Prefab also had components manufactured in Italy and knew the potential effect it could have on slowing down their production. As a precautionary measure, they used RamBase to trace all the parts manufactured by Italian suppliers.
VVS Prefab makes complex products with an intricate Bill of Materials. This means that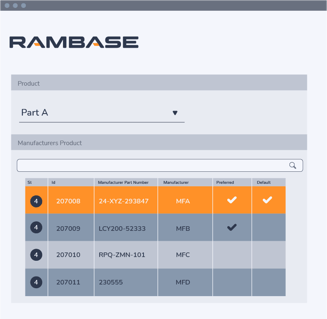 control over the availability of components is crucial. In RamBase, all components can have a list of relevant and approved manufacturers. The system uses manufacturing part numbers to differentiate similar components. This feature allowed VVS Prefab to set one manufacturer as default, with the others listed as potential substitutes. Some manufacturers may be additionally tagged as preferred with a reason added as a note in the same list. The explanations can be tied to specific customer requirements, deviation experience, or as, in this case, as a risk-reducing measure to safeguard production.
Having already implemented manufacturing part numbers for key components in RamBase before the pandemic started was a key advantage for VVS Prefab; it enabled them to rapidly take control of the situation and reduce the risk of late deliveries affecting their production.
Updated exchange rates
Due to the interdependency between currency markets and the expectations of future economic growth, the pandemic has influenced market rates. With fluctuating exchange rates, there are no absolutes, and business systems should be updated to reflect changes in the market.
VVS Prefab found it a valuable feature that all purchase prices were updated with daily exchange rates, with no need to calculate the difference on each item manually. As the market has reacted to a major international crisis, this feature has been especially important to enable VVS Prefab to maintain accurate pricing and margin control.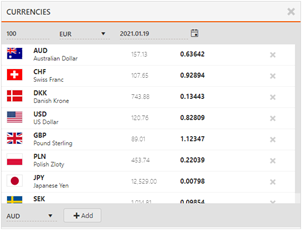 Besides updating all prices with the correct value, the system also offers a general overview of currency rates. RamBase is equipped with different widgets accessible from the desktop. All employees can pick the widgets that are relevant for them, one of these being the currencies widget. In the widget, you can choose the relevant currencies for your business. Widgets can also be created based on specific customer requirements.
Working from home
Cloud ERP enables and empowers remote working, so VVS Prefab could easily comply with all their office workers when the Norwegian government encouraged working from home. With a cloud ERP system such as RamBase, your employees can access the system from anywhere, on any device, with an internet connection.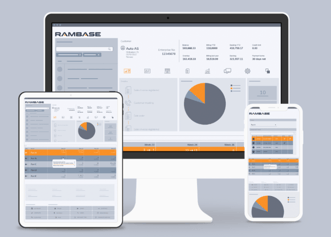 For VVS Prefab, their main processes, including finance, procurement, logistics, production, CRM, and sales, are all handled by RamBase. Having all processes in one system reduces the need to be in attendance to get project information physically. The system easily updates the relevant work lists for everybody. Especially for the procurement department, employees did not need to be at the office, as all work tasks could be done in the safe comfort of their homes.
Employees that need to work on the shop floor to keep the manufacturing processes running, get all the work order information they need from their own screens and worklist. No need to collect printed work orders or attend morning workshop meetings to know what to produce. The system keeps them updated.
More efficient processes
Before they decided to go for a new ERP system, VVS Prefab relied on a finance system and many bespoke excel spreadsheets to handle their business. By choosing RamBase, VVS Prefab opted for industry fit and got a system with rich functionality that complies with their way of doing business. An intricate Bill of Materials is handled with ease, and there is no limit to the complexity of the product that the system can handle.
Product documentation is more organized with RamBase. When the document is ready for shipment, the documentation for all components in the product is only one click away.
Looking back at the implementation of RamBase in the summer of 2019 and fast forward almost two years later, VVS Prefab has seen clear positive changes to the way they operate. With clear goals to grow their business and turnover, they have achieved a growth of 30% from 2019 to 2020, despite a global pandemic. RamBase has been a part of that journey.
Revisiting another quote from the first interview with VVS Prefab, it sums up the reason why efficient processes lead to growth potential:
"The way everything is connected is one of the reasons we chose RamBase and why it is a really good system for us"